October journal and Giveaway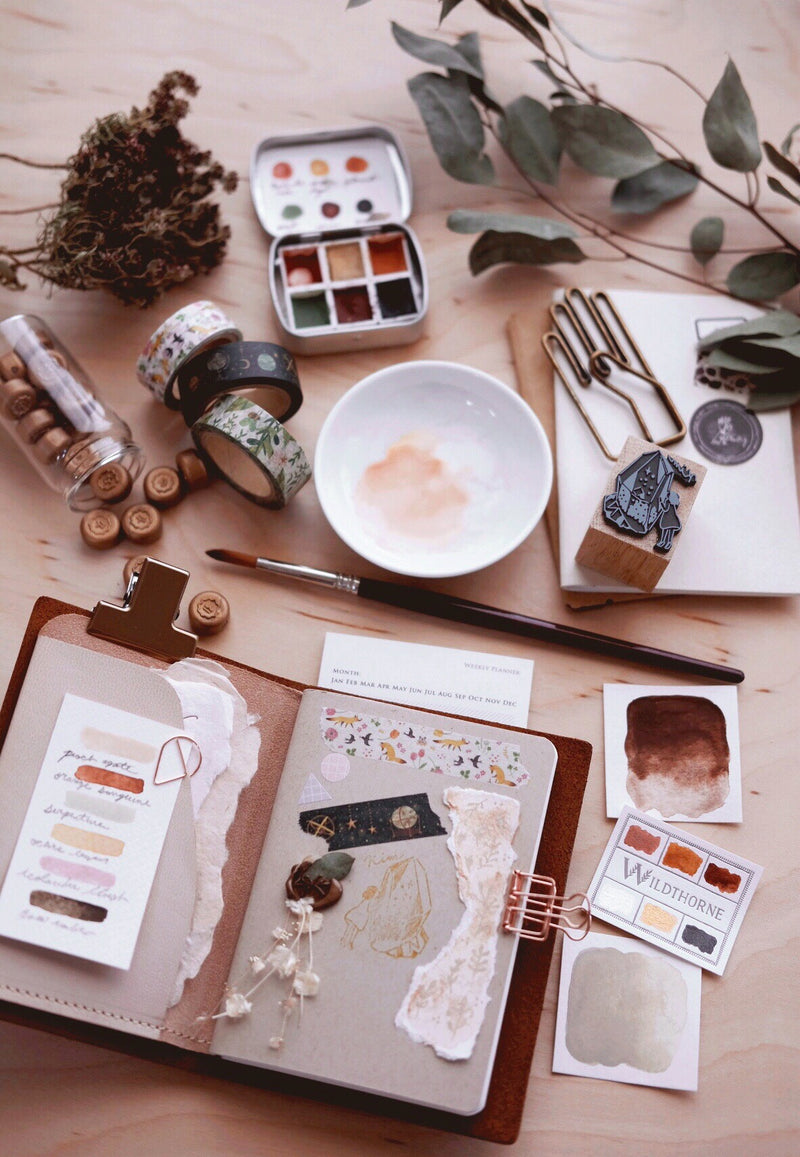 Let's start a journal together, you and me. I have been thinking and contemplating for a long time on how to best address the issues of loneliness, lack of connection, mental and emotional health in our modern society. For months and even years I've been unraveling this puzzle on how I might be able to contribute in a small way to providing a space of comfort and growth for people to connect and share ideas and exchange art and inspiration. 
In my own personal life journaling, planning and watercolor painting all align and blend together much like our paints do on the page. The benefits of journaling and art therapy have been well documented and for the purpose of keeping this blog simple and accessible I won't quote all of the science here but I will share links in the future for those who may be interested in learning more.
I've arrived at revitalizing this blog to share how I use watercolor daily for those who have messaged me or left comments on Instagram that they would like to learn how to watercolor paint but are hesitant or intimidated. I've always felt that art is an expression that is unique to each individual and that every person is an artist at heart as you create your own life through your choices.
I encourage you to begin now, start from where you are. This series is for you the beginner, and a beginner's mind is a valuable and exciting starting point as you are free and open to explore. Through the process of bullet journaling, sketching, painting, and writing I have experienced many benefits and I would like to share these with you in the hopes that these humble and simple practices and ideas will inspire you to take up a pencil, pen and brush, and begin your own path of self-discovery.  The rewards are many I promise, you will learn much about yourself through your daily habits and by spending time doing an analog activity that is away from a device or screen. The added positive aspects of greater grounded presence, mindfulness, and connection to yourself will slowly reveal themselves to you in unexpected and delightful ways.
The tools you need are simple:
A notebook (any kind will do, if you plan on doing a mixed media type of journal then one with watercolor pages, a tomoe river notebook like a hobonichi, or mixed media paper journal is ideal). Don't let the type of paper or notebook daunt you, you can always layer in thicker paper to existing pages. I have even seen artists use brown Kraft paper notebooks with great results in watercolor.
A pencil or graphite
A pen of your choice (I personally like the Pilot juice pens in .38 for writing), to have ink that you can watercolor over I use a Micron black pen in .03
Watercolors (all of the paints used in my journal are our own Wildthorne paints, and I will list each color and how I mix them so that you can duplicate these results at home), but you can use any brand of watercolor that you have on hand.
Watercolor brush (my favorite brands are Princeton, Escoda, and also Asian paintbrushes), don't get caught up however, in quality or price, any watercolor brush will do.
Any other art supplies you choose to incorporate, if you don't have watercolors, you can use crayons, pastels, acrylic paints, markers, colored pencils, whatever brings you joy and feels good in the hand. 
I truly want this to be an easy and simple series of projects that you can achieve at home with the tools that you have already. These exercises are meant to be quick so that you can use them as a restorative activity at the end of the night during self-care time, or as a quick morning practice to greet the day in a centered and thoughtful way. 
You can do this art journal series alone or with a loved one or friend, and as a bonus I will be offering a giveaway at the end of the month of a palette of our watercolors along with select stationery products that I have hand-selected as a gift for those who participate fully and can show me a flip or photos of their completed notebook.
There will be a variety of different art and journaling prompts and feel free to choose the ones that call to you. All are geared to a beginner level and so you will be able to start immediately or jump in wherever you'd like.
The greater prize that everyone can obtain is the time you spend doing an activity that is analog and offline, the interactions and friendships you may form through following along in this process and interacting with me and others who participate, the discoveries that you unearth about yourself by spending time in reflection, and at the end of the month by having a completed October notebook that you can revisit to review your process, and also to see in a tactile way the colors, ideas, emotions and inspiration that are bound together in memory of these days.
Many people charge for these types of courses, I have chosen not too, and to keep these exercises public and open to all, it is my way of giving back and contributing with what I can, my knowledge, care, time and energy which are the most valuable resources in my opinion.
Our first project is to decorate the cover of your notebook and also create a monthly calendar page dedicated to October. My personal style is minimalist with small bits of nature and paper ephemera, watercolor paints, stickers and washi added in. I need to keep things simple so that I can clearly see the information that I need. 
My notebook is a passport-sized tomoe river notebook made by Paper Penguin. You can also use a Midori Travelers Factory insert in this size or any other notebook of your choice. If you prefer to leave your cover plain that is fine, or if you have a hardbound cover that won't take paint then decorate it how you see fit with stickers, washi tape or draw on it. Make this notebook yours by personalizing it so it is inviting and something that you wish to pick up and use daily.
I have layered on the cover of my art journal a scrap of leftover watercolor paper that I've painted on in the colors of our
Bois de Rose
,
Buff Titane
,
Sun Gold
and
Bronze Star
watercolors mixed, a wax seal with a tiny Eucalptyus leaf from a farmers market bouquet, some soft textile yarn, a stamp of one of my favorite images, Japanese washi tape, and stickers, and I've drawn on top of my watercolor scrap small leaves and flowers for Autumn with a bronze Zebra Sarasa gel pen.
The first page is always the most daunting for me of a new notebook and I am always trying to remember important dates and deadlines during the month and so I have turned this into my calendar overview page. Keeping everything simple and functional with minimal beauty is calming and soothing to me when I open up my notebook. 
Here I have used my Micron ink pen and written the word October and created a monthly calendar. I then painted over the title with the same watercolor blend of paints that I used on the cover of my notebook to tie it all in together. This brings cohesiveness visually and also I enjoy the idea of incorporating beauty or a thought of color both inside and out. At the bottom of the page, I have painted in small droplets the colors that I've used to create my wash of colors. This rounds out the page and adds informative insight into my color mixing that I can reference later, as well as a decorative element. If you've noticed I'm all about functional beauty that is minimal and works for you.
I hope that you have enjoyed this first exercise, please feel free to comment with kind suggestions and or questions here.
A new project and page will be posted daily all throughout the month, and as we delve deeper more clues on how to qualify for the giveaway will be provided as well.
Happy October friends, be kind and patient on this journey to yourself and others. The majority of my photos will be on Instagram with shorter captions, however, longer and more in-depth explanations and details on supplies will be shared here on the blog. Please don't forget to tag your photos on Instagram #wildthorneoctober so that I may see them and share, also these tagged posts qualify you for entry into our giveaway at the end of the month. 
Thank you for joining in and participating. I look forward to seeing your notebooks, ideas and unique personalities through your pages.
xo!
Kim