***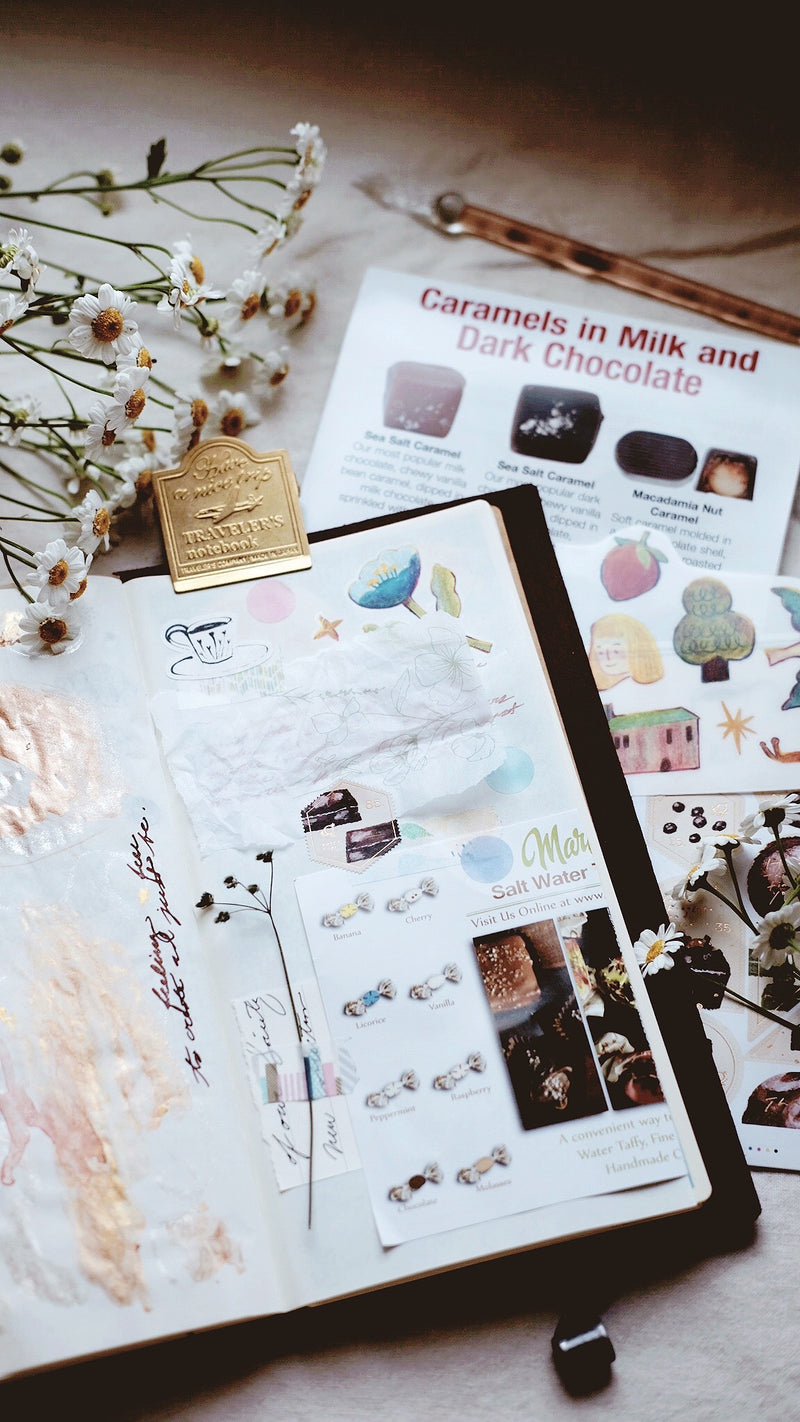 "Look, there's no metaphysics on earth like chocolates." F. Pessoa
These days fly by with a swallow-like swiftness.  I am savoring the little bits of sweetness that drift into life. Writing in my journal memories of laughter shared with my parents, fierce hugs with my daughter, holding my husband's hand. It all feels very tender and emotive. I take nothing for granted now, a sentiment that I think all of us collectively can empathize with and understand. 
This weekend I took my daughter to Donnelly Chocolates which felt like a step back in time. The warm wooden furniture, baskets of artisan chocolate, and the incredible smell of cocoa and aromatics was heady. We sampled some delicious panna cotta, gourmet ice cream bars, and of course amazing handcrafted chocolate. 
Rose and Cardamom confections balanced in my lap. Notice the pretty gold foil lined box, I so appreciate how much care and love artisans put into their work.  
033
For this weekly journal spread I collaged a page that speaks to the depth of sweetness in life. Using a varied supply of new and old stationery materials, paper ephemera, fountain pen ink, and also repurposed confectionary packaging.  
 You can conjure beauty from scratch, or stitch together the bits and pieces that naturally arrive in happy mail, or that you've selected with intention. So much paper and ink permeates the little experiences that color and shade our memories. It is good to put these lovely fragments to use in our journals, as the photography, fonts, and art in mailers, receipts, and brochures are like time capsules that we can revisit. Journaling in this way also is kind to the earth and reduces the amount of waste we produce in a mindful way. 
 Write fully about a string of moments or just a singular pearl of a pleasant day in your journal. Add in particular details like the light, any scents, tastes, conversations, or music that contributed to your honeyed day. 
A small sprig of a wildflower is washi taped onto my page, (this was a surprise gift from my husband), and although the petals have fallen, the stem of love remains. The scent of saltwater taffy infuses a brochure listing flavors of sugared sweetness, artful Japanese stationery stickers, along with a scrap of tissue paper from some happy mail round out my page. May this post find you indulging in a satisfying glow of presence and nourishment.