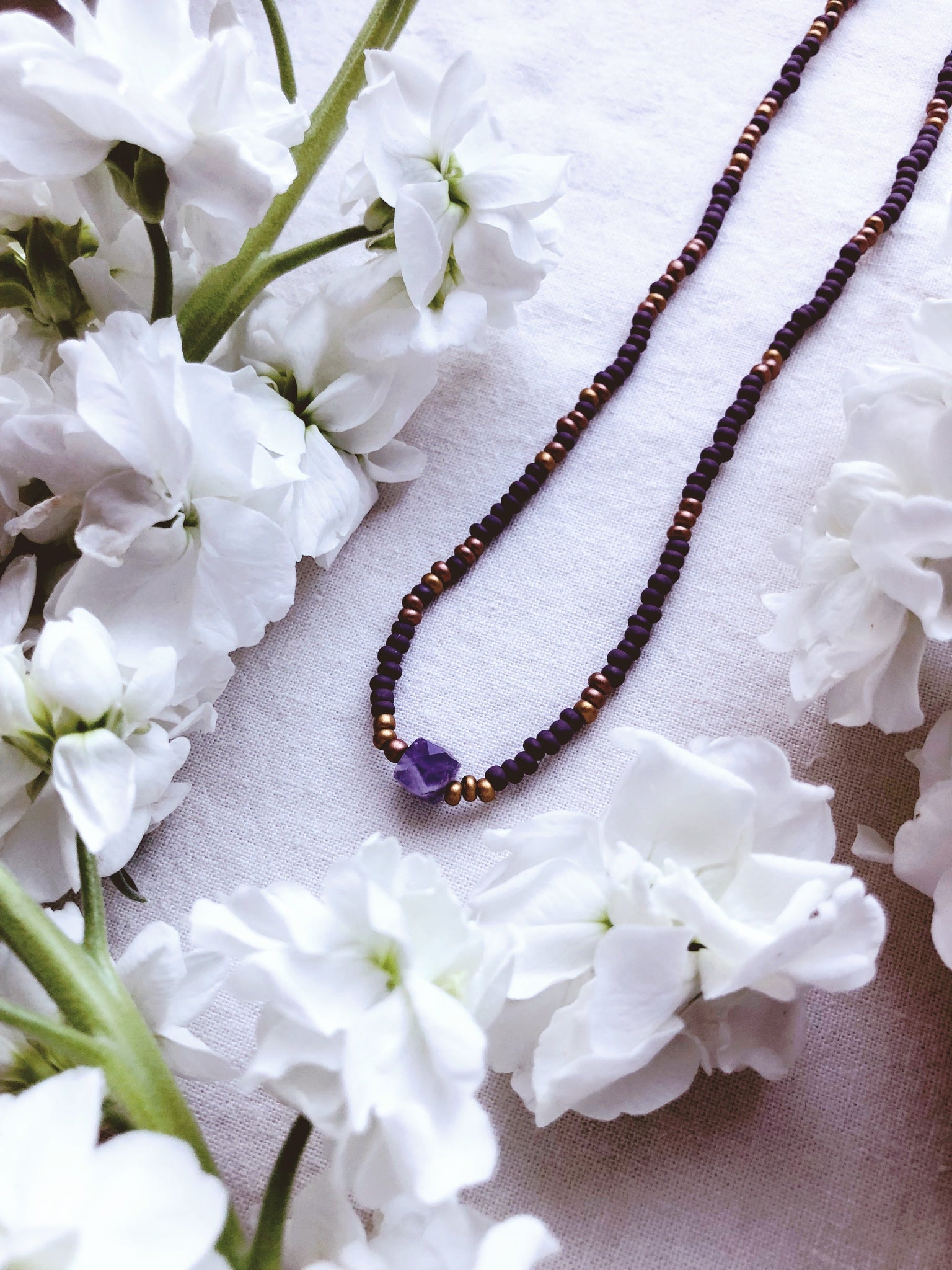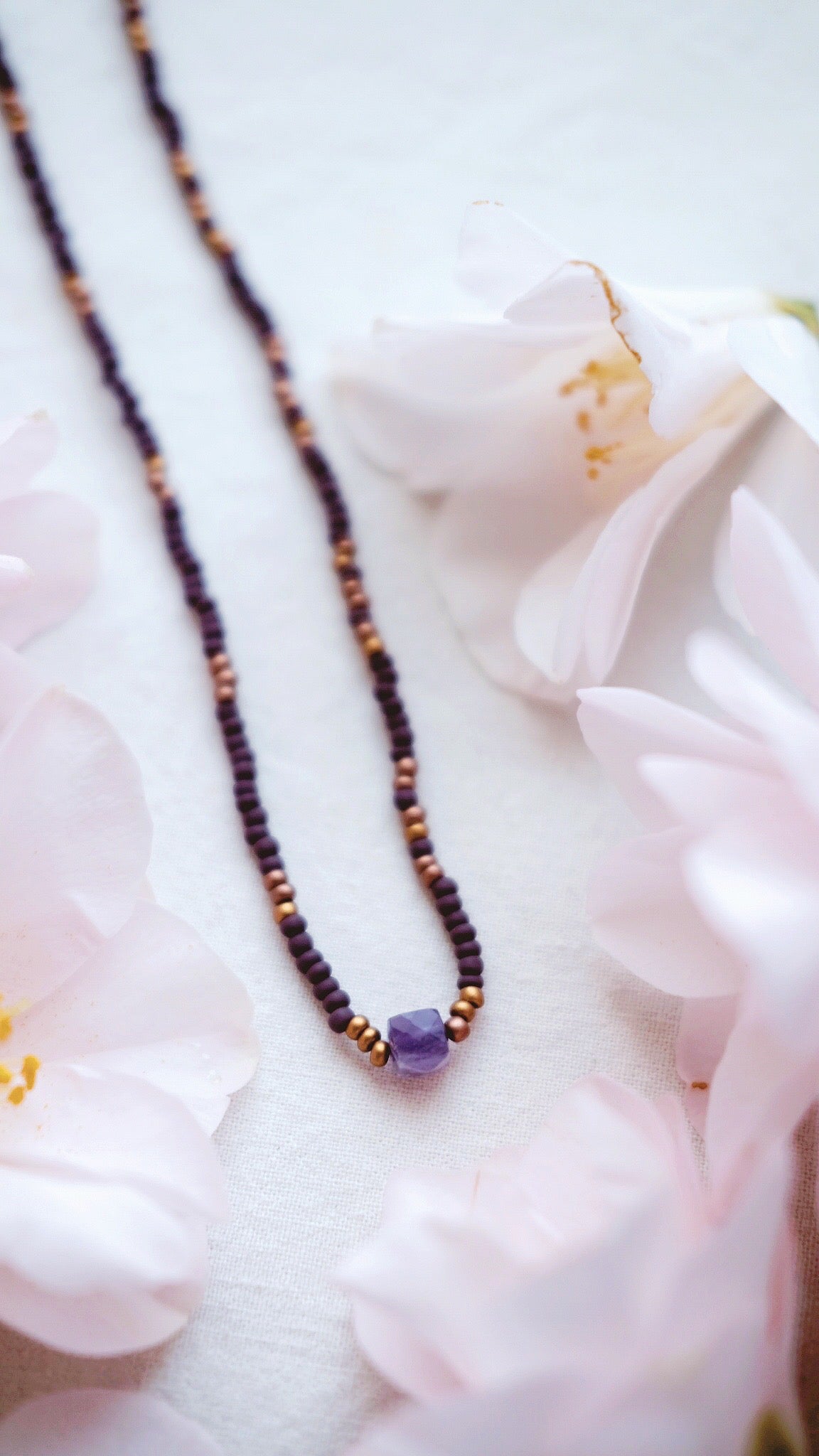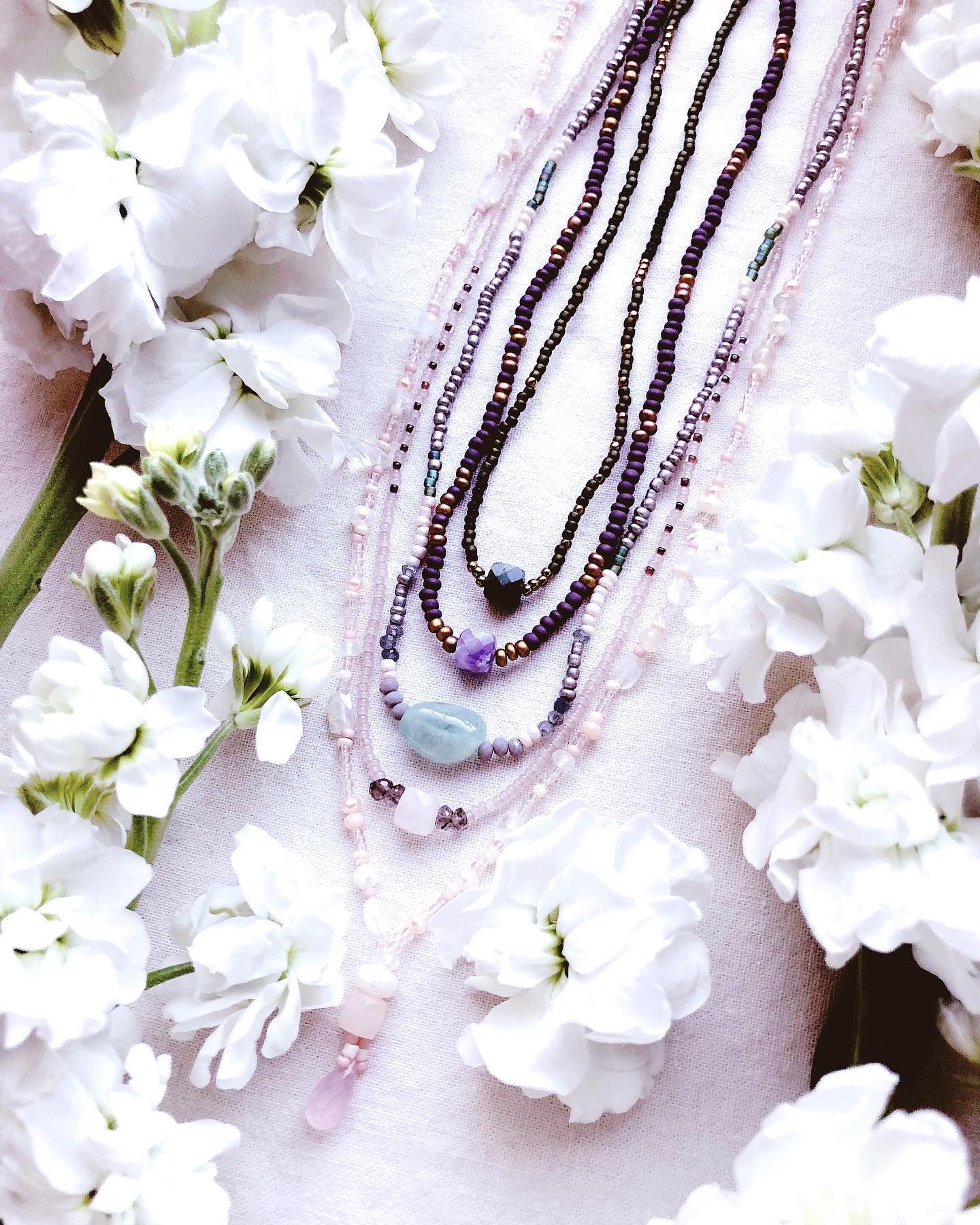 RESERVE for Tammy + Intuition + Amethyst + mindfulness beaded necklace
Details
  * This listing is reserved for a special customer. Please do not purchase unless you are Tammy.   As per our conversations: 1 x Intuition Amethyst necklace with combined shipping   thank you! xo!       ::...
Read more
* This listing is reserved for a special customer. Please do not purchase unless you are Tammy.
As per our conversations:
1 x Intuition Amethyst necklace
with combined shipping
thank you!
xo! 
 :: Amethyst ::
A delicate necklace of genuine faceted Amethyst for intuitive guidance, dreaming, and insight. The solid cube shape gleams as a stable foundation for healing, balance, and inner wisdom. Lovely banded striations form an artistic landscape of crystalline beauty. Hand beaded in matte eggplant and gold Japanese glass seed beads.  

In sacred geometry the cube is a symbol of geometric perfection in completeness, it can be seen as the truth in reality as it appears steadfast from any perspective. 
Each jewel is ethically and sustainably handcrafted in our studio redwood forest by the sea one at a time. Created peacefully each necklace bears the intention of self-compassion, intuitive guidance, insight, and empathy.  

Unisex the length of this necklace is approximately 28 inches. Choose either one strand to wear as a soothing touchstone of strength and support, or layer it with our other gemstone necklaces for a scintillating energetic resonance. This listing is for one 'Amethyst' necklace only, the third photo showcases multiple strands for layering options. 
Each inch of every strand has been created mindfully with a heuristic of graceful flow. Please note that there is no clasp, this bead strand necklace slips over your head in a fluid motion with grace in a symbolic circle. 
** As the crystal in this necklace is natural there may be slight variations in colors and surface textures. Also, any lines or marks in the crystal is not a crack but a natural inclusion and is a part of the patterning within the stone. This showcases the crystal's inherent beauty as minerals come from the Earth. 
This necklace will come beautifully gift wrapped ready to be gifted either as a treat for yourself or another.


Care Instructions: I recommend that this necklace be rinsed in cool water when you wish to clean it and gently blotted dry. When not being worn I also recommend that you store your necklace in its original box that it was sent in, or wrapped in a soft cloth.
*** Colors of crystals and beads may vary depending on your computer or device screen settings. All of my jewelry is photographed in natural daylight. ***