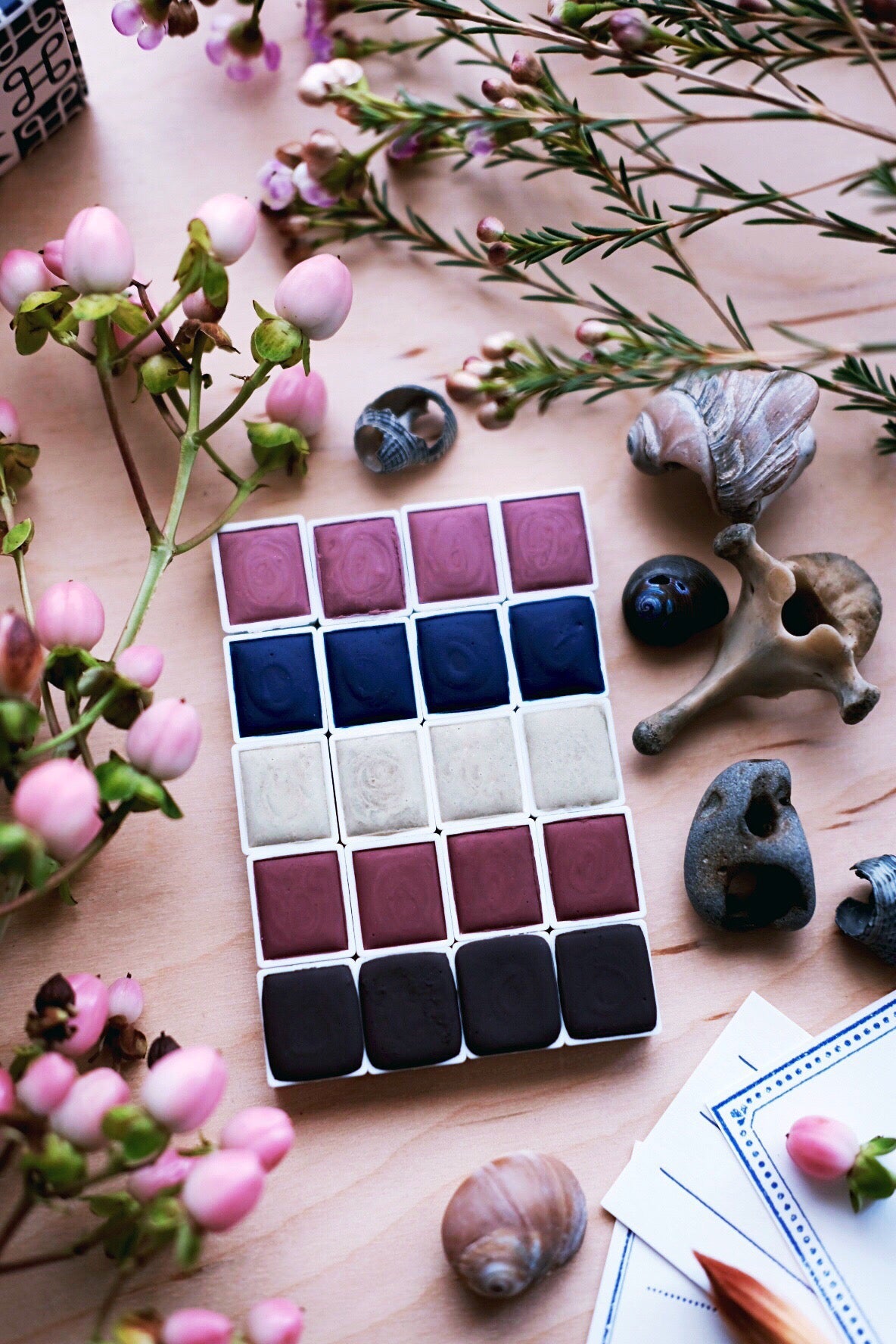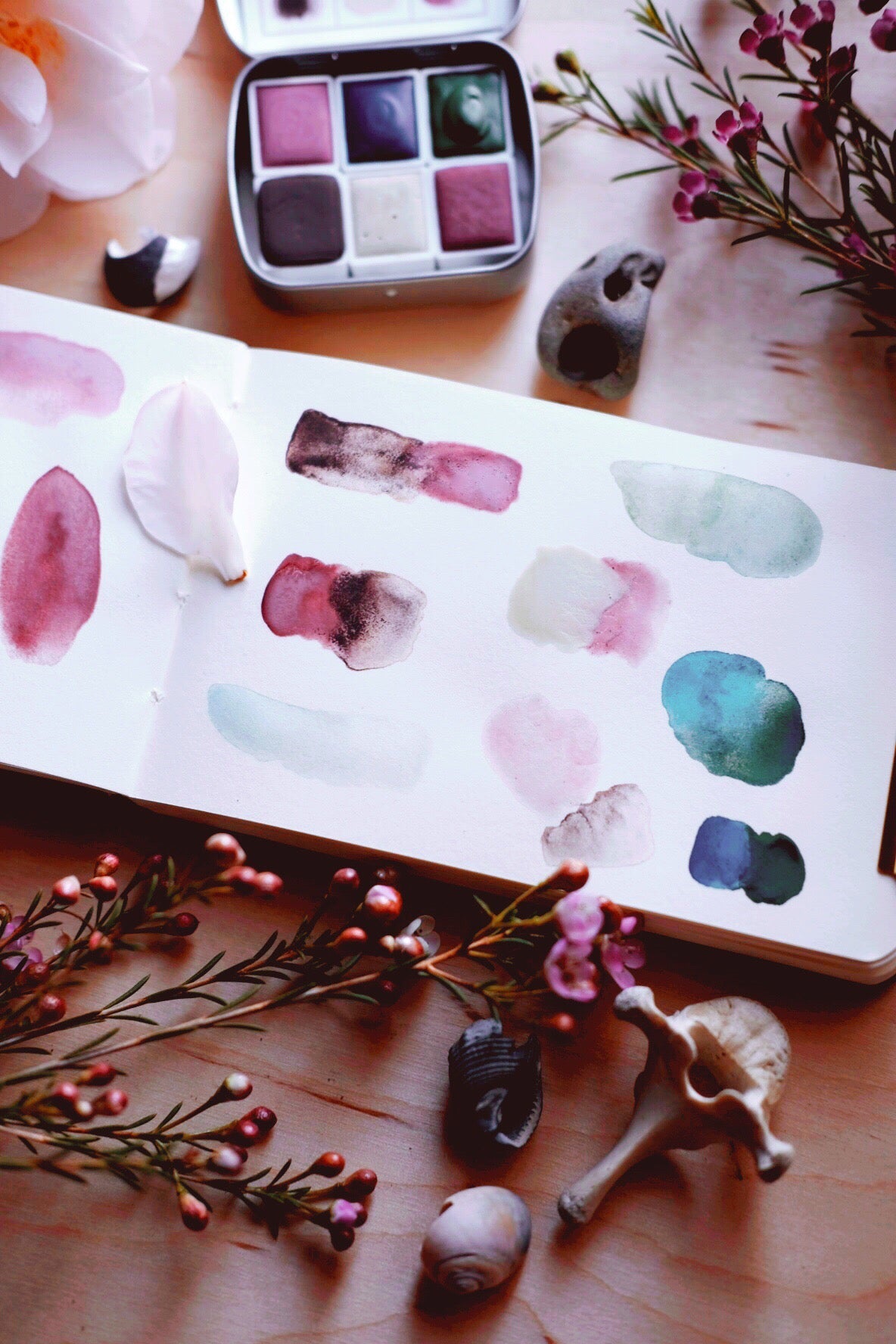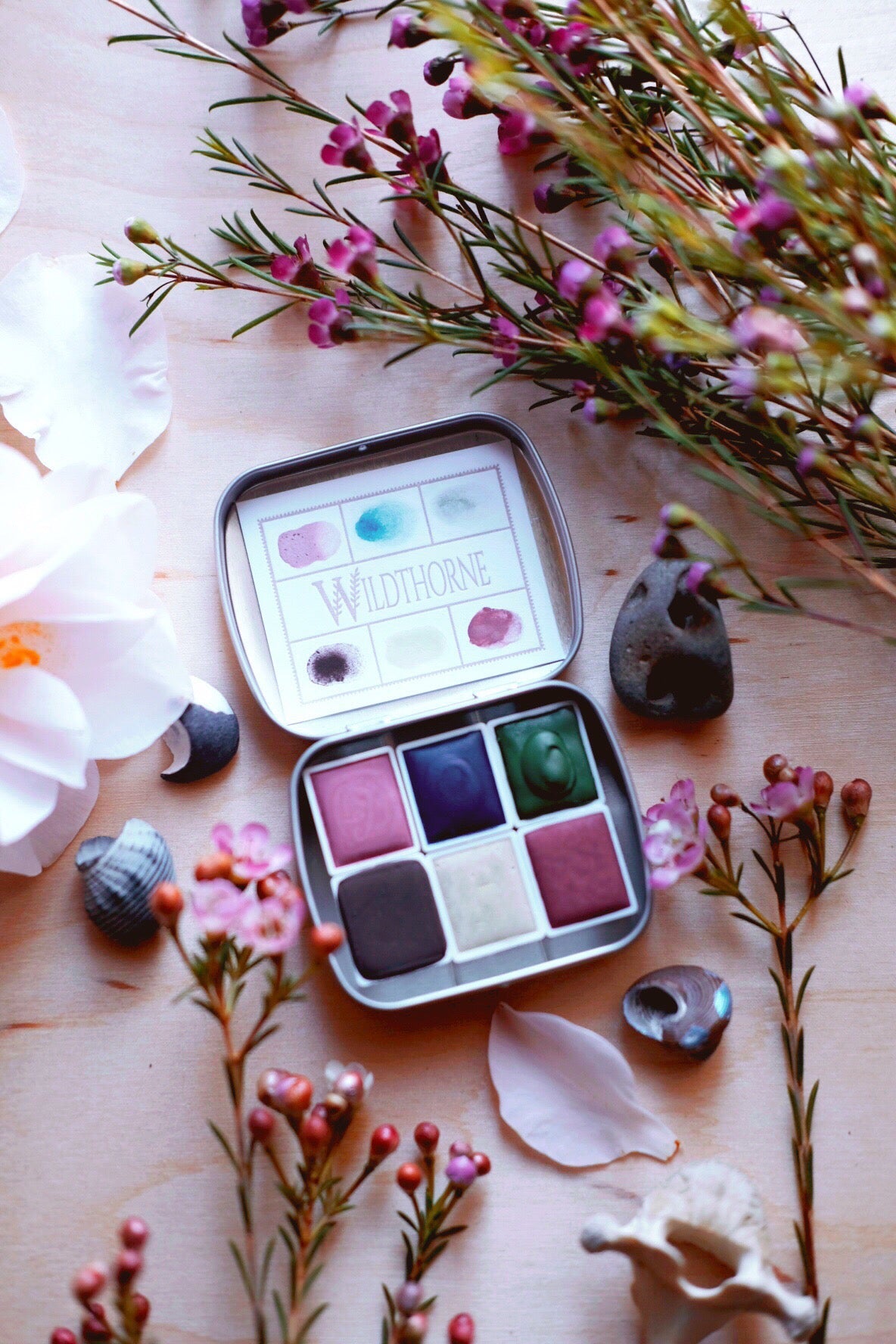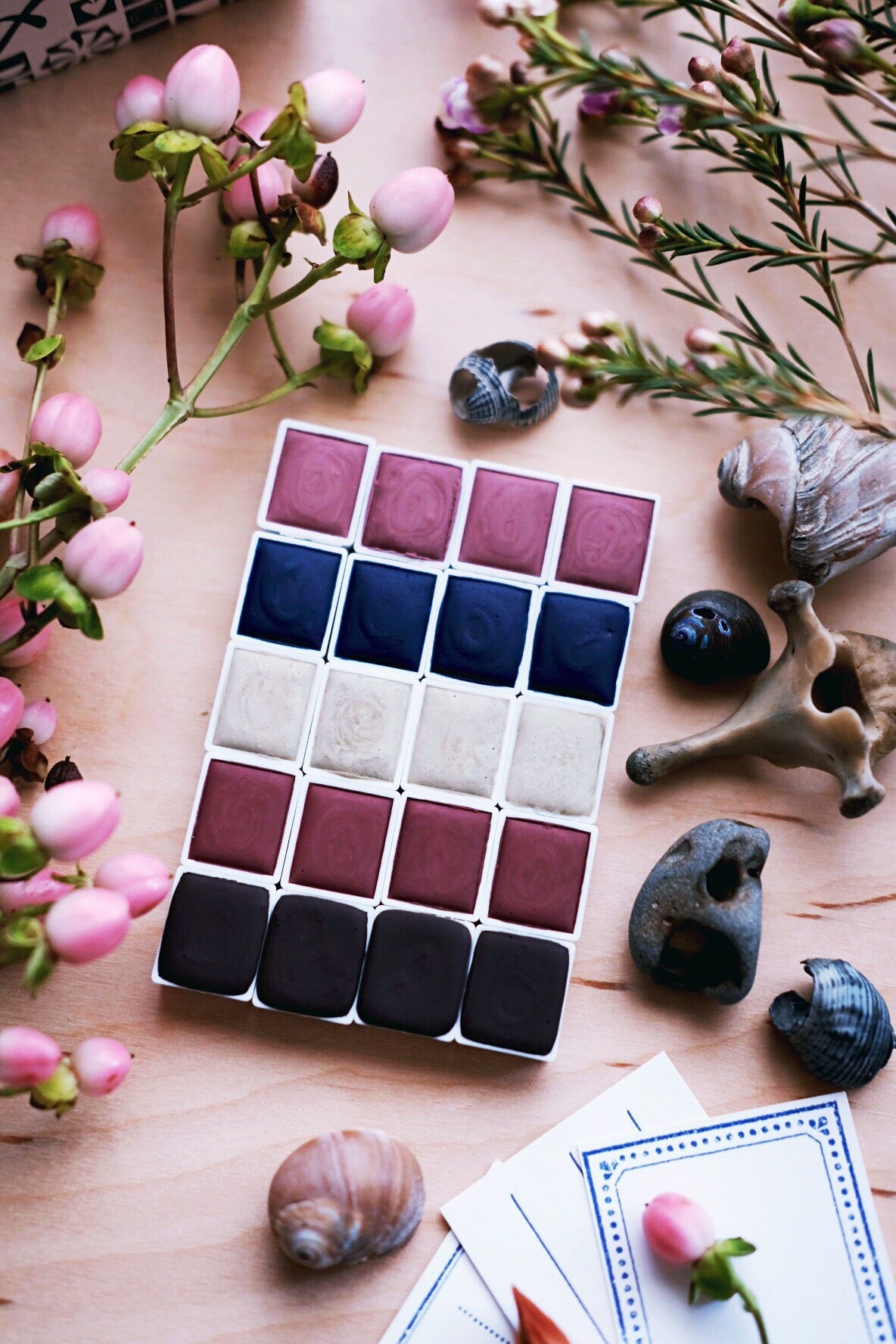 RESERVE for Robyne + Seashell Floret - Limited edition Gemstone Mineral watercolor palette
Details
  * This listing is reserved for a special customer. Please do not purchase unless you are Robyne.   As per our conversations: 1 x Seashell Floret   thank you!      :: Seashell Floret ::   A...
Read more
* This listing is reserved for a special customer. Please do not purchase unless you are Robyne.
As per our conversations:
1 x Seashell Floret
thank you!   
:: Seashell Floret ::
A brilliant flash of deep blue in a seashell that emerges from the waves paired with the delicate pink of wax blossoms and rosy hypericum that I've gathered on the studio table. Watercolor tonal matching and a quiet moment captured in the studio as I was admiring this combination created this customers choice palette just for you. 
The 'Seashell Floret' collection is a specialty limited edition set comprised of rare Malayaite gemstone watercolor paints in Sakura Pink, and Deep Sakura Pink, Serpentine crystal and Red Moon, along with our rich and lush Bleu Primaire and Viridian Green watercolors that comes in a portable re-usable metal tin, along with our signature artisan letterpress.
Top row // from left to right 
Sakura Pink, Bleu Primaire, Viridian Green
Bottom row // from left to right
Red Moon, Serpentine, Sakura Deep Pink  
Each curated palette also comes with an exclusive Wildthorne hand letterpressed artisan swatch card that nestles snugly within your watercolor palette ready to be painted by you. Our letterpress cards are crafted one at a time with sustainability and environmental responsibility in mind. The paper is 100% tree-free cotton made locally in the United States as a byproduct of the cotton garment industry. With a soft luxurious and tactile feel to the touch, it is a surface that invites your artistry. 
Our rare gemstone mineral watercolor paints have a beautiful granulation and can be layered from thick to thin. Artist grade and lightfast, each pan is hand poured to exacting traditional recipes and techniques in our studio using the highest quality earth pigments, and natural watercolor binding medium made from distilled water, honey, glycerine, and the sap of acacia trees.
 *** Please choose carefully, our gemstone watercolor paints are accessible to all to purchase and paint with, however, these paints act decidedly different than factory or synthetic watercolors. Because these paints are handcrafted from natural earth minerals and crystals they have a consistency like wet sand and do not disperse or soak into the paper as conventional watercolors do, but rather they hover more gracefully on the surface. We suggest that you add water in a gentle balance being careful to not drown these gemstone paints while working with them and to build up the colors in layers for a deeper saturation of color. We do not recommend any abrasive rubbing and or scratching with gemstone watercolors. There are no refunds or exchanges for this item. 
 * subject to availability. This item is a pre-order and will ship within 1-2 business weeks (not including holidays and weekends), as each pan of paint will be hand poured to order especially just for you.