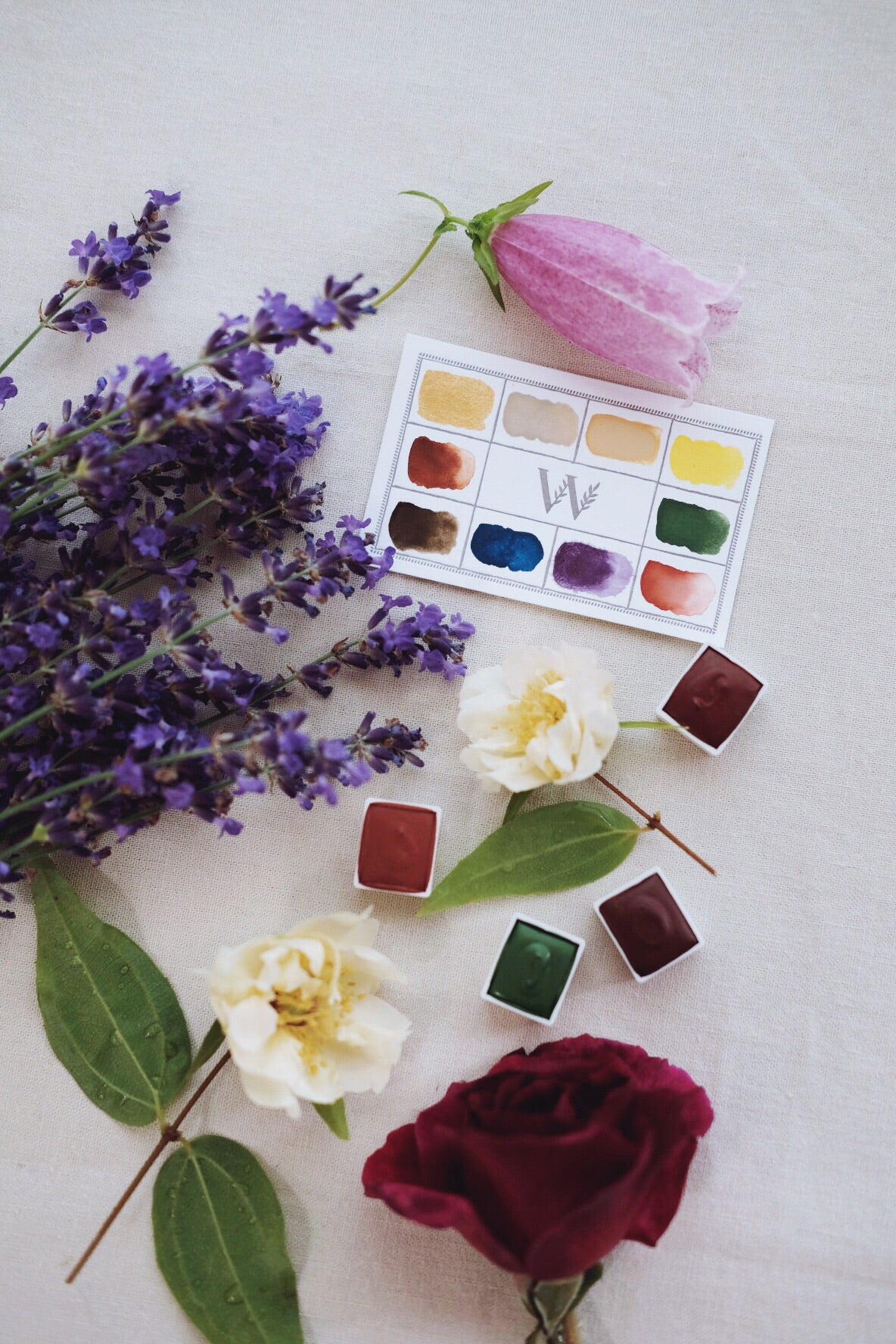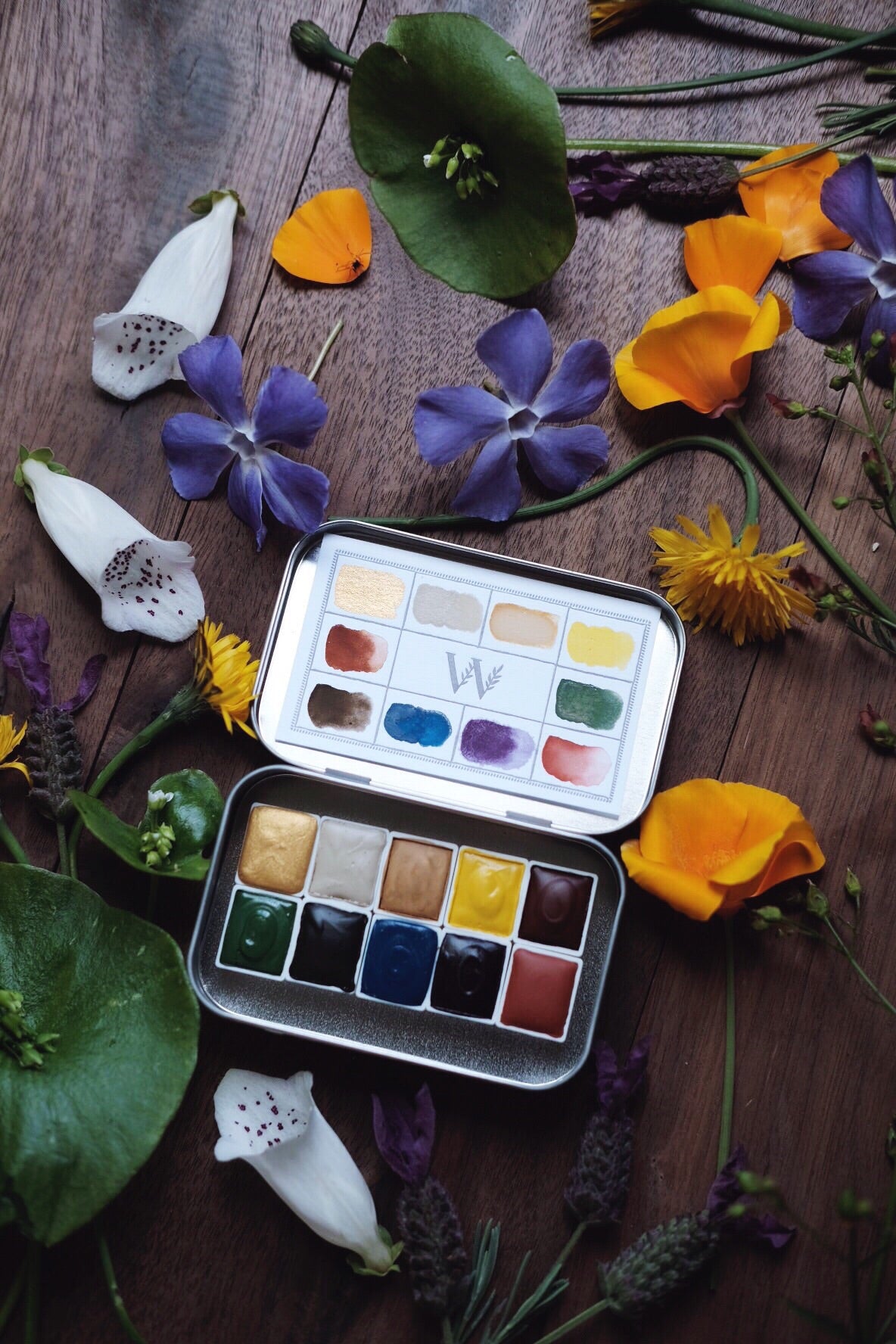 RESERVE for Moudhi + Dandelion + Earth Mineral watercolor palette
Details
  * This listing is reserved for a special customer. Please do not purchase unless you are Moudhi.   As per our conversations: 1 x Dandelion palette 1 x  Moons of Saturn   thank you! xo!    *...
Read more
* This listing is reserved for a special customer. Please do not purchase unless you are Moudhi.
As per our conversations:
1 x Dandelion palette
1 x  Moons of Saturn
thank you!
xo!
 * Please note that this is a pre-order listing and the estimated delivery time will be within 1-2 business weeks.  Each palette will be handcrafted to order. 
:: Dandelion :: 
A beloved classic gets a new name. Dandelions grow wild and free in our studio forest, carefree they are available for everyone to enjoy. A safe haven for butterflies with their sunny and bright petals, Dandelions are also a source of nourishment for the local bumblebees. Once transformed into fairy like globes full of seeds Dandelions become gentle wish keepers for hopeful hands and dreamers.
Just as kindness spreads when given freely, Dandelion seeds carry within each kernel of a seed the promise of future fields of wishes. We are proud to offer this collection of assorted vibrant and versatile watercolors paints with this newly energetic name. 
A collection of hues from some of our most favorite colors that create an immense range of subtle to deeply saturated hues, the Dandelion palette is a great introductory set to the world of artisan mineral watercolor paints. Handcrafted from the finest all natural earth minerals that consist of 10 half size pans of artist-grade, lightfast watercolors in a portable reusable metal tin.  
Top row // from left to right 
Sun gold Mica, Buff Titane, Mimosa, Ochre léger, Sienne Brûlée 
Bottom row // from left to right
Viridian, Raw Umber, Bleu primaire hue, Wood Violet, Bois de Rose
These mineral watercolor paints have an organically beautiful granulation and can be layered from thick to thin. Each pan is hand poured to exacting traditional recipes and techniques in our studio using the highest quality earth pigments, and natural watercolor binding medium made from distilled water, honey, glycerine, and the sap of acacia trees.
+ Each curated palette is sent with an exclusive Wildthorne hand letterpressed artisan swatch card that nestles snugly within your watercolor palette ready to be painted by you. Our letterpress cards are crafted one at a time with sustainability and environmental responsibility in mind. The paper is 100% tree-free cotton made locally in the United States as a byproduct of the cotton garment industry. With a soft luxurious and tactile feel to the touch, it is a surface that invites your artistry.   
 * subject to availability. please allow around 1-2 business weeks (not including holidays or weekends) for this item to ship. We photograph in natural lighting but colors may vary depending upon your device screen settings