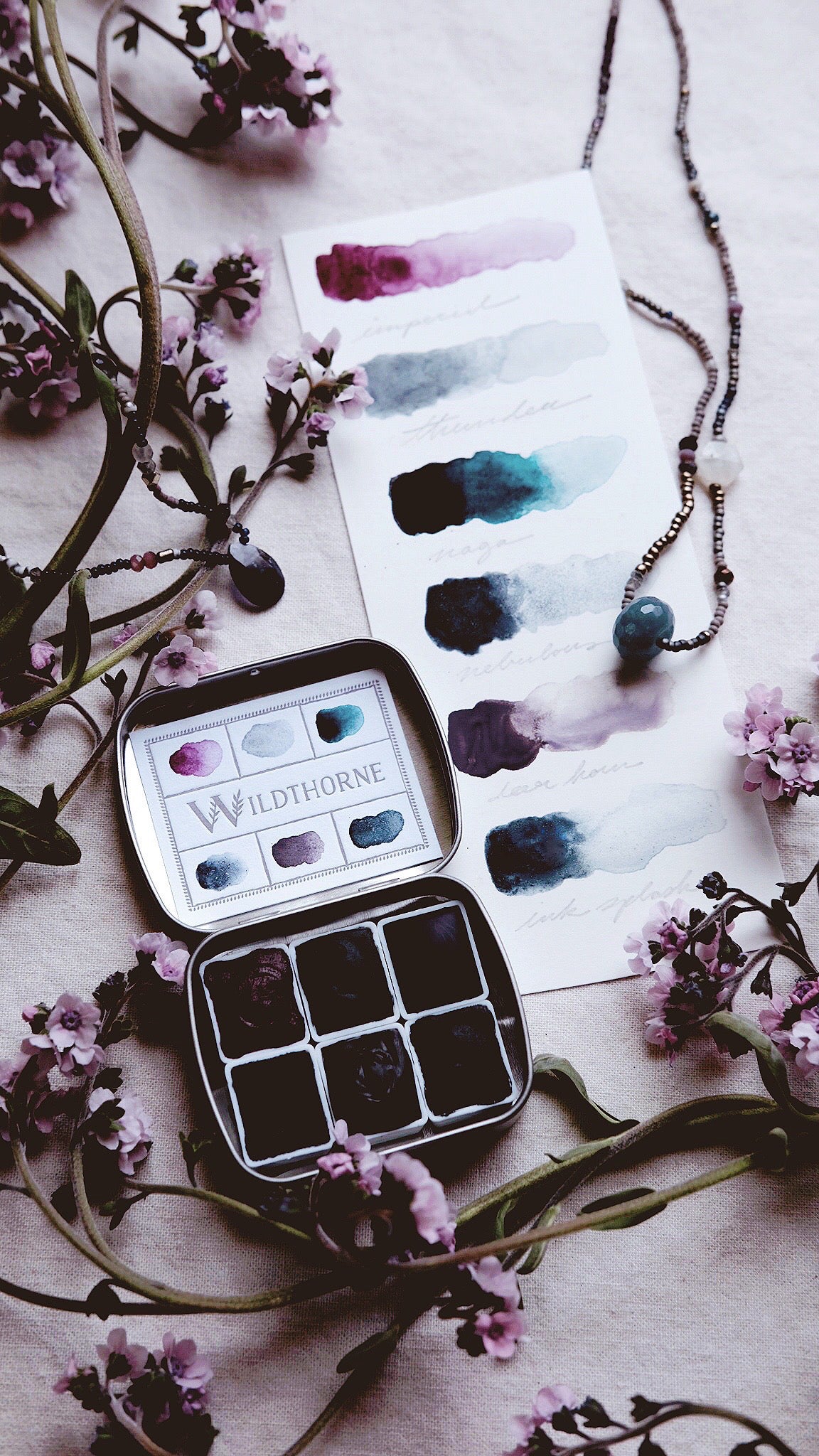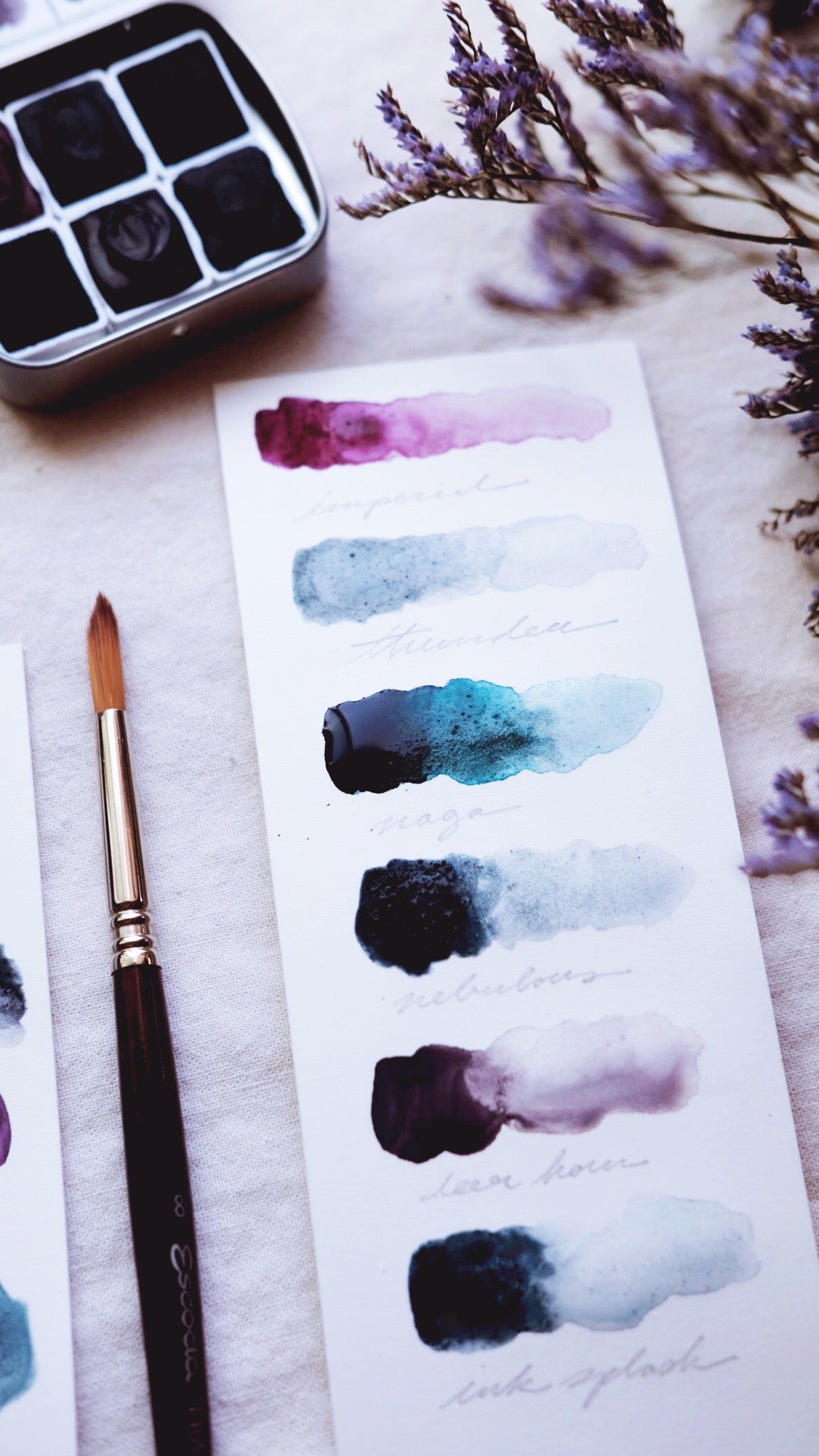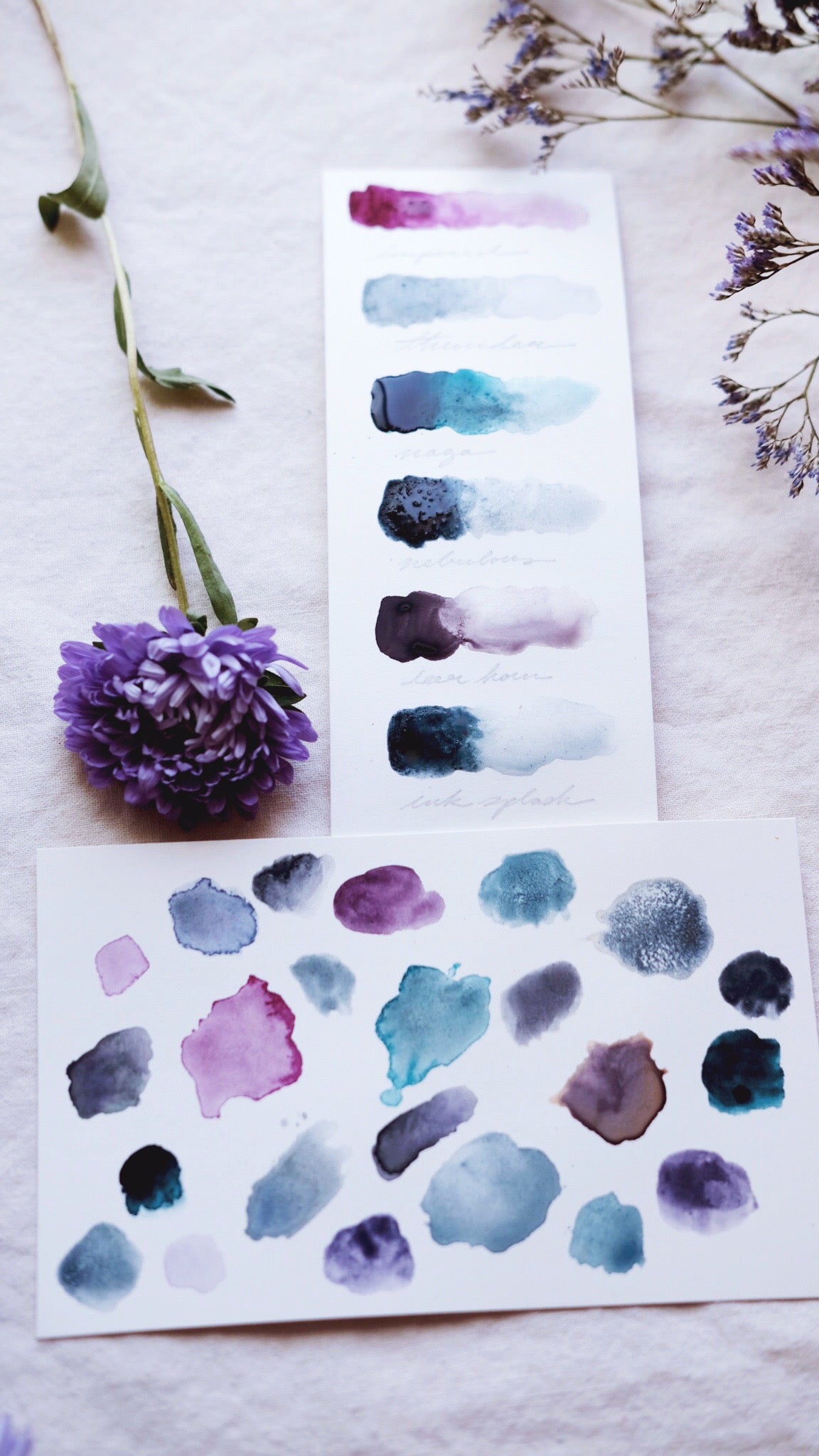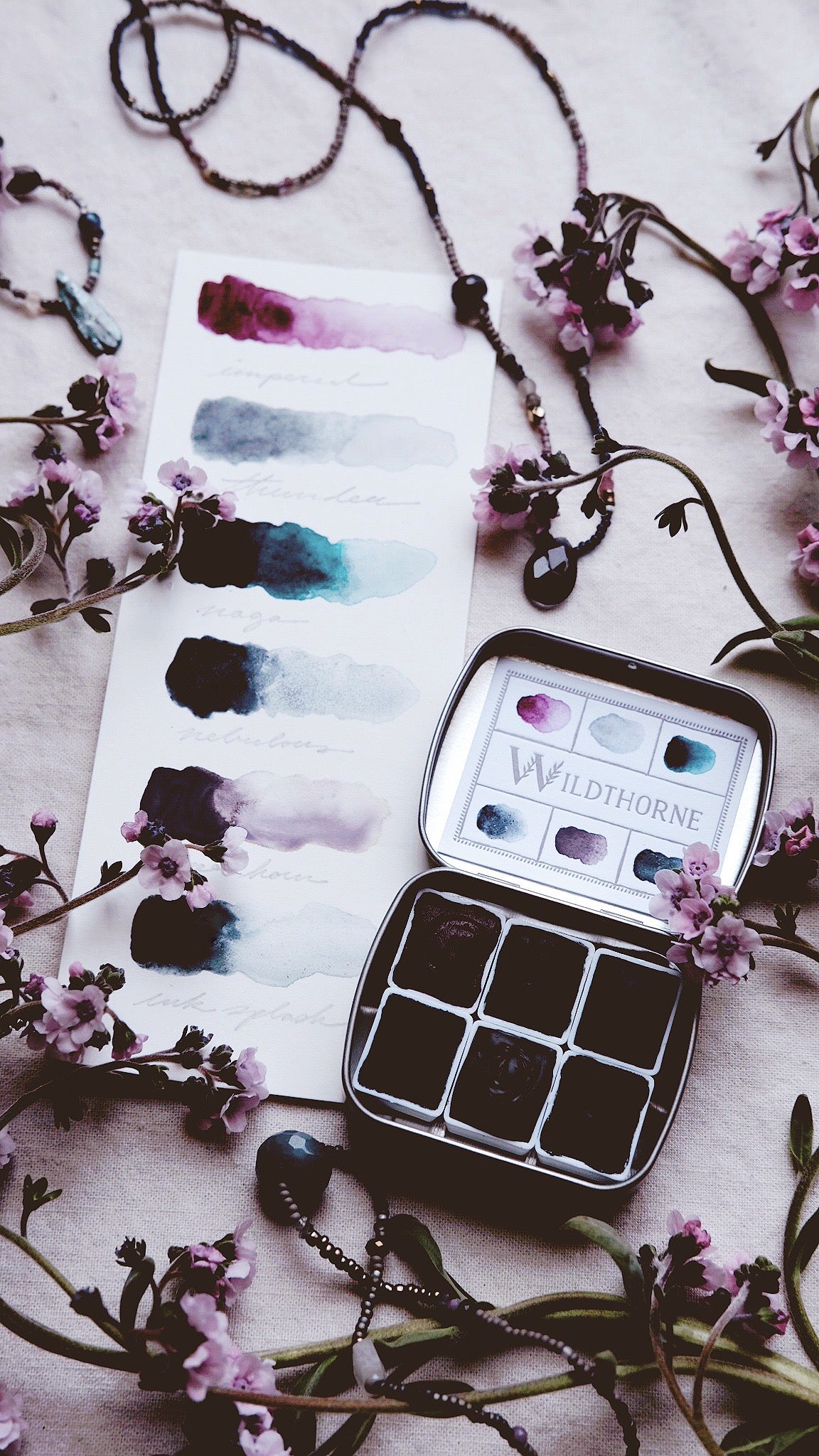 RESERVE for Melodee + Cloud Dragon + Limited edition Mineral watercolor palette
Details
  * This listing is reserved for a special customer. Please do not purchase unless you are Melodee.   As per our conversations:   1 x Full pan Cloud Dragon palette   thank you!  xo!    :: Cloud Dragon...
Read more
* This listing is reserved for a special customer. Please do not purchase unless you are Melodee.
As per our conversations:
1 x Full pan Cloud Dragon palette
thank you! 
xo!
:: Cloud Dragon ::
An Empyrean watercolor collection comprised of what is celestial, watery, and fortuitous. A glimmer of the inner creative alchemist's process of discovery and transmutation. The roar of thunder, coursing grace, and movements of a brush on canvas echoing the serpentine-clawed footholds that grasp clouds in ascension.
It exists in the misty whirlpools and ink splashes of Chen Rong's Nine Dragons handscroll. Shrouded in fog and the silken ripple of water in vapor and rain. A positive force for change, energy, and creativity. 

Perhaps after this long drought of connection and stability, a fierce but benevolent guardian spirit is a welcome presence.  I gathered smoke, mist, pigment, and created this collection to inspire those who can keenly perceive subtle shades and tones in a hue. 


Here is a stable of 6 draconic watercolors that are dynamic and supple. Swatched clockwise they are:
 
Top row // from left to right 
Imperial, Thunder, Naga
Bottom row // from left to right
Nebulous, Deer Horn, Ink splash
Imperial - a vibrant saturated purple red
Thunder - a cool slate grey, morning mist and fog 
Naga - a brilliant teal blue-green, the subterranean watery realm 
Nebulous - a granular steel blue-grey, the darkness of gathering storm clouds
Deer Horn - a smokey violet, shadows in caverns
Ink Splash - a stone blue, deep pool of water
** Please note that two of our watercolors (Imperial and Naga) are very intensely saturated paints. These watercolor hues will stain brushes and so we recommend using a separate watercolor brush when painting with these colours if you would like to prevent them from tinting your favorite brush.
*** Choose carefully as three of the watery dragon paints within this collection: Thunder, Nebulous, and Ink Splash are very similar to each other yet also different. You will need an artist's eye to note variances in the undertones and tints. If variations on a theme are not for you, then I would advise skipping this palette. 
+ This listing is for one-half pan 'Cloud Dragon' watercolor palette only, the corresponding jewelry collection is sold separately.
As a gift, each curated palette also comes with an exclusive Wildthorne hand letterpressed artisan swatch card that nestles snugly within your watercolor palette ready to be painted by you. Our letterpress cards are crafted one at a time with sustainability and environmental responsibility in mind. The paper is 100% tree-free cotton made locally in the United States as a byproduct of the cotton garment industry. With a soft luxurious and tactile feel to the touch, it is a surface that invites your artistry. 
Our lovely mineral watercolor paints have a beautiful granulation and can be layered from thick to thin. Artist-grade and lightfast, each pan is hand-poured to exacting traditional recipes and techniques in our studio using the highest quality earth pigments, and natural watercolor binding medium made from distilled water, honey, glycerine, and the sap of acacia trees.
** subject to availability. This palette and will ship within 2-3 business weeks not including holidays and weekends.