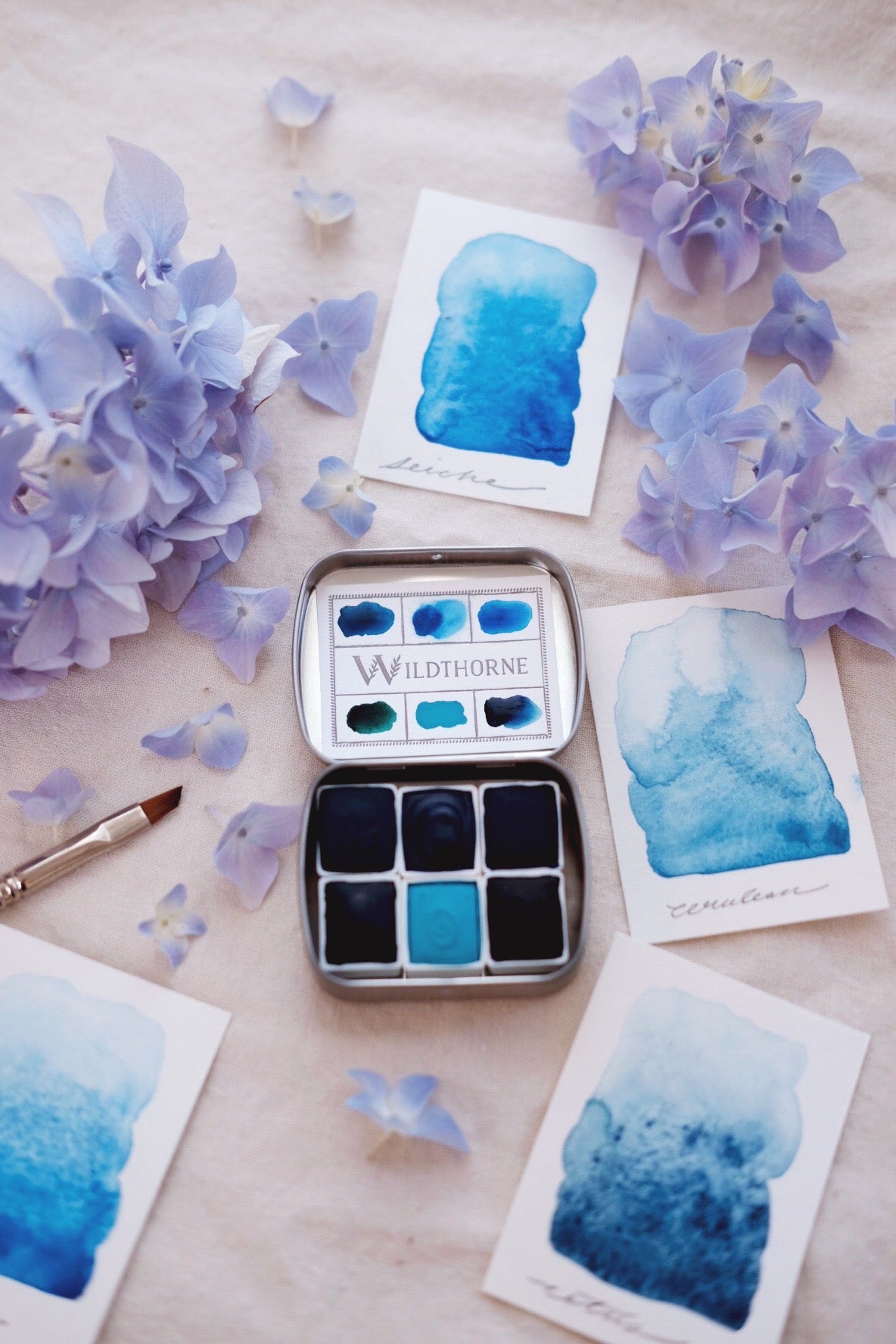 RESERVE for Mary + Custom Voyager and half pan watercolors
Details
  * This listing is reserved for a special customer. Please do not purchase unless you are Mary.   As per our conversations, a custom Voyager palette:    1 x Cerulean 1 x Tidal 1 x Seiche 1...
Read more
* This listing is reserved for a special customer. Please do not purchase unless you are Mary.
As per our conversations, a custom Voyager palette: 
1 x Cerulean
1 x Tidal
1 x Seiche
1 x Tau
1 x Vert Turquoise as a stand in for Nereid 
1 x Cetus 
with half pans each of the following watercolors:

1 x Dione 
1 x Buff Titane 
1 x Indigo 
:: Voyager ::
The Voyager palette was composed as an idea of a vessel boat traversing varying seas during the soul's transit through water in myth. While contemplating what is needed to heal the soul during our lifetime, the simple everyday practice of mindfully brushing watercolors across paper can provide both introspection and reflection. Water is a life-giving element and a force that flows with abundance and grace. Water is primal and the key ingredient that allows dry minerals, gemstones, and pigments to dance on the page. Water immerses us into another world and as our senses are adrift, we are able to dream in aqueous vision. 

We connect to our ancestors and the world that they lived in when we contemplate color and make our own individual marks that add to the collective story of humanity. We travel across water in our journeys and cry heartfelt tears in joy and sorrow. Water nourishes and replenishes our physical bodies, and also acts as a soothing audio panacea for our emotional and mental states. 

Here are 6 fluid paints to inspire your personal voyage of art and discovery.
Named after watery aspects of standing waves, mythical and ocean-bound creatures, as well as a nod to my Vietnamese heritage in the bright turquoise handcrafted wooden boats that bring flowers to market while traveling up and down the river Deltas. I hope that you will love and welcome this new palette of serene and powerful hues into your collection. 
Each curated palette also comes with an exclusive Wildthorne hand letterpressed artisan swatch card that nestles snugly within your watercolor palette ready to be painted by you. Our letterpress cards are crafted one at a time with sustainability and environmental responsibility in mind. The paper is 100% tree-free cotton made locally in the United States as a byproduct of the cotton garment industry. With a soft luxurious and tactile feel to the touch, it is a surface that invites your artistry. 
Our lovely gemstone mineral watercolor paints have a beautiful granulation and can be layered from thick to thin. Artist-grade and lightfast, each pan is hand-poured to exacting traditional recipes and techniques in our studio using the highest quality earth pigments, and natural watercolor binding medium made from distilled water, honey, glycerine, and the sap of acacia trees.
** subject to availability. This item is a pre-order palette and will ship within 7-10 business days (not including holidays and weekends), as each pan of paint will be hand-poured to order especially just for you.  
*** the last photograph in this listing shows the swatch of the replacement Phoebe color (top row to the far right) in the Moons of Saturn palette which will be substituted for the Nereid.