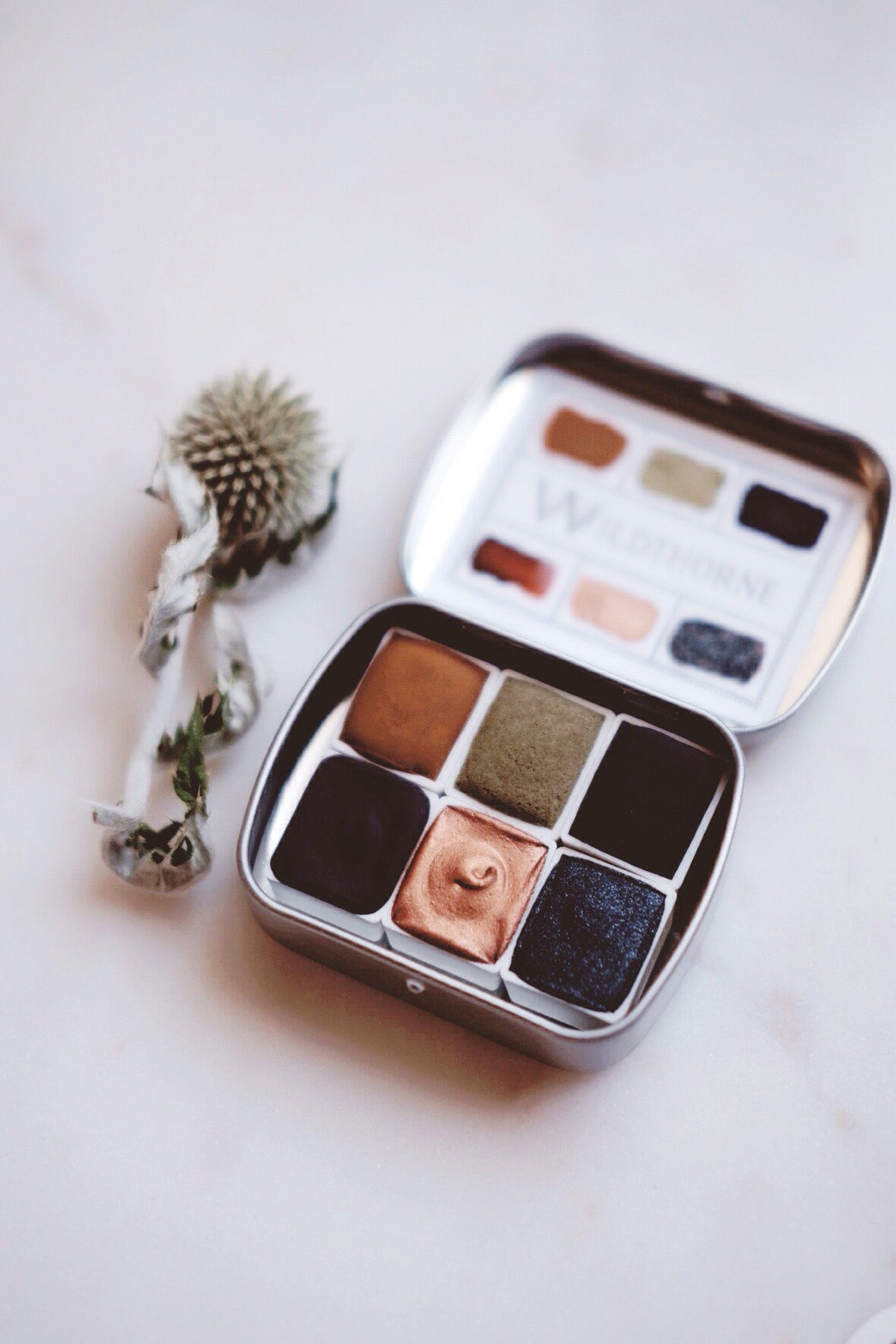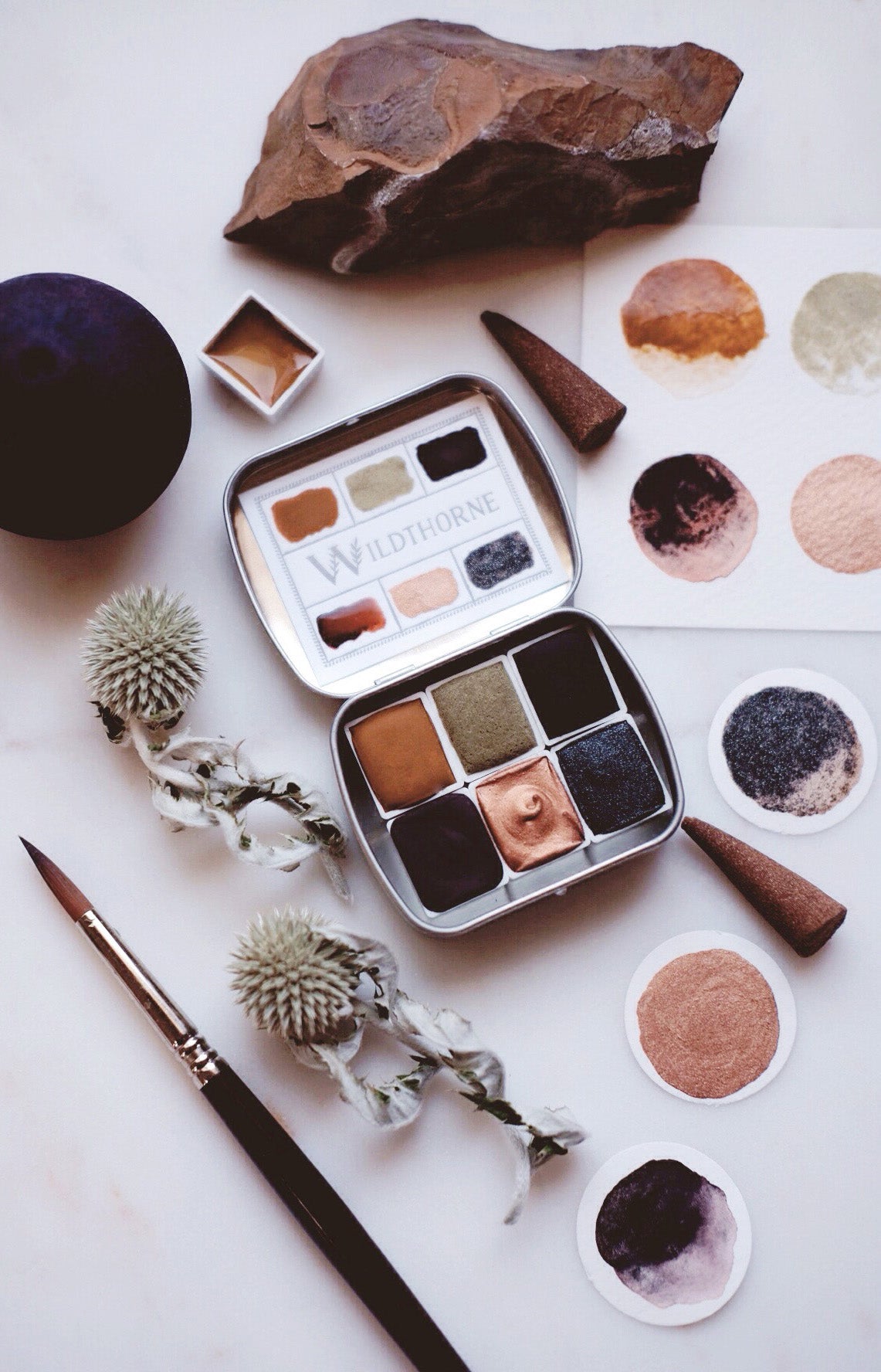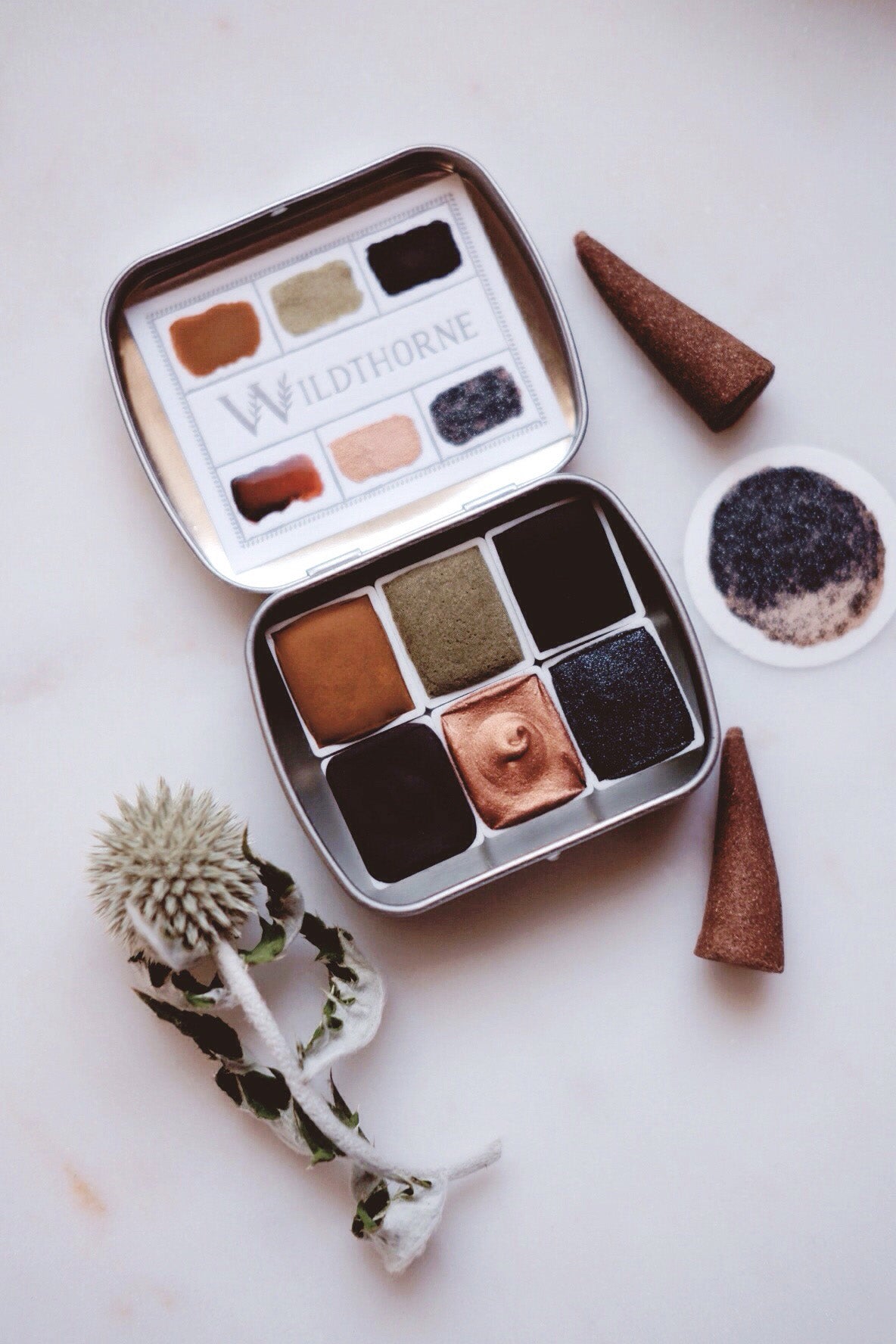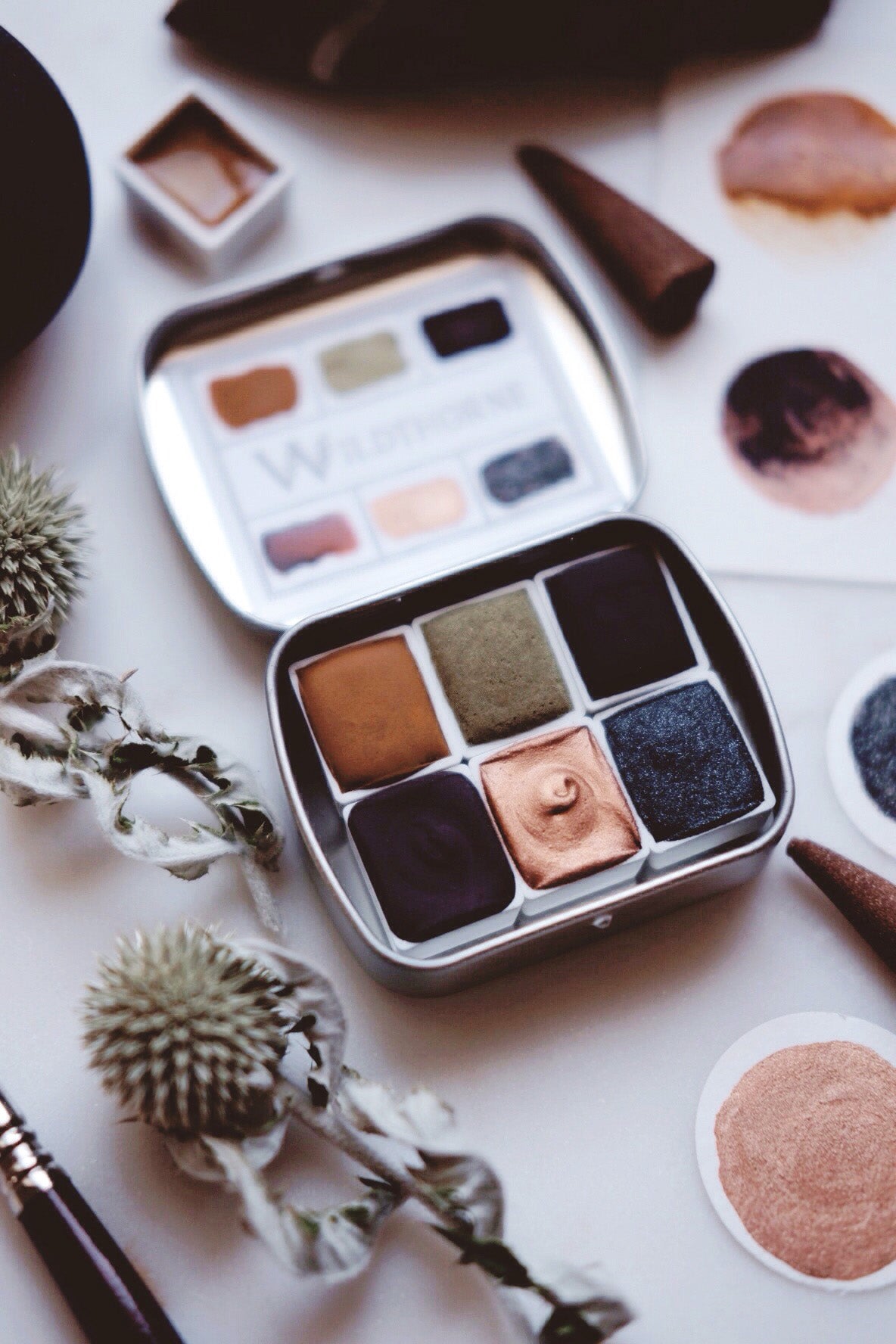 RESERVE for Gillian + Nymphaea + Waterlily - Limited edition Gemstone Mineral watercolor palette
Details
  * This listing is Reserved for a special customer. Please do not purchase unless you are Gillian.   As per our conversations:   1 x Nymphaea waterlily palette 1 x Sunflower half pan     thank you!...
Read more
* This listing is Reserved for a special customer. Please do not purchase unless you are Gillian.
As per our conversations:
1 x Nymphaea waterlily palette
1 x Sunflower half pan  
thank you!
xo! 
:: Nymphaea ::
The Nymphaea Water Lily collection is a specialty limited edition set comprised of natural mineral watercolor paints that are intimate and layered with metaphor, significance, and meaning. The culmination of my own personal narrative woven together through memories, stories, and experiences in the arc of our family history. 
Hand poured entirely from all gemstone and earth minerals the Nymphaea set is a collection of colors with unusual depth and presence. An Autumnal palette with natural tones and hues that whisper in ripples of poetic tranquility, passion, and harmony. 
Named 'Nymphaea' as a tribute to the water lilies my father has grown, cultivated and planted my entire life; floating on the surface of his koi and goldfish ponds the Nymphaea water lilies would blossom seemingly overnight making appearances like graceful ballerina dancers in unison. Shown in our cover photo the watercolors listed from the top row left to right are: Burnt silk, Bamboo Cane, and Pala Ash, while the bottom row three colors starting from the left are: Red Moon, Temple Bell, and Lacquerware Hematite. 
'Burnt silk' is an Iron oxide based watercolor handcrafted from Japanese pigments and is named after the complex embroidery that appears on traditional Vietnamese dresses. A nod to the heritage and long tradition of women makers in my family, beginning with my namesake grandmother Kim who taught herself arithmetic through sewing for her family. 'Burnt silk' also pays homage and respect to my mother who every year has sewn a special New Years festival "Ao dai" dress for me since I was a little girl, and now has carried on that ritual for my daughter. 
Working tirelessly during the week my mother could often be found sitting at her sewing table on the weekends measuring out and cutting lengths of patterned silk that would puddle and spill over in cool pools on her table and the floor. A candle was lit when she would complete a stitched section of the dress, and she would run the edges of the silk through the candle flame burning and sealing the fabric to prevent fraying. 
'Burnt silk' is a gorgeous and earthy orange-brown watercolor with yellow undertones. It recalls also the color of bronze chrysanthemums, the traditional seasonal flower of Autumn represented in Asian artwork through painted screens, silk fans, fabrics, and enamelware. 
'Bamboo Cane' is an Epidote crystal based watercolor that has the mineral texture and grit of a raw gemstone paint. A lush green that speaks to the strength and resilience of the bamboo plant that begins its life as a tender stalk but then grows rapidly into one of the most durable materials used to both nourish and build. Bamboo has the duo fold attributes of being both soft in nature; flowing and bending with pliancy in the wind, while it can also remain fixed firmly rooted in the ground.
'Pala Ash' is the third watercolor paint in this set. Pala being the Tibetan based word of origin for a protector, while the Ash refers to the fierce hue of the temple guardians depicted in Tibetan Buddhist canonical texts. Also, Iron oxide based, this watercolor is magnetic and will flow magically on paper. A dark and rich purple: "like the cloud which appears at the end of a kalpa (aeon)".
'Red Moon' is another Iron oxide watercolor paint with an unusual deep saturated reddish-brown hue. Symbolizing the late harvest moons in the fall season, this watercolor appears dark almost black in the pan but once a little water is added it transforms into a deep velvety mahogany.
'Temple Bell' is a stunning watercolor with an even metallic shimmer and red gold undertones. Luscious and thick it has a more muted weighty density, and the consistency is like heavy cream. The lion of the palette 'Temple Bell' adds a regal luster to your paintings.
Last but not least our 'Lacquerware Hematite' paint is made of crushed authentic Hematite crystals. With a mysterious thick glitter and more surface sparkle, 'Lacquerware Hematite' has a slightly pink undertone and its own signature energy. Glittering lacquerware art was present everywhere in my childhood home. I would gaze dreamily at depictions of young Vietnamese women swinging under the full moon with glittered dresses that contrasted with the nightfall of black lacquer. Goldfish would swim nearby coquettishly within the glittering water weeds in the dark lacquered depths of the panels my parents hung, tempting one into a calm and observant state.
Our rare gemstone mineral watercolor paints have a beautiful granulation and can be layered from thick to thin. Artist grade and lightfast, each pan is hand poured to exacting traditional recipes and techniques in our studio using the highest quality earth pigments, and natural watercolor binding medium made from distilled water, honey, glycerine, and the sap of acacia trees.
Each curated palette also comes with an exclusive Wildthorne hand letterpressed artisan swatch card that nestles snugly within your watercolor palette ready to be painted by you. Our letterpress cards are crafted one at a time with sustainability and environmental responsibility in mind. The paper is 100% tree-free cotton made locally in the United States as a byproduct of the cotton garment industry. With a soft luxurious and tactile feel to the touch, it is a surface that invites your artistry. 
 *** Please choose carefully, our gemstone watercolor paints are accessible to all to purchase and paint with, however, these paints act decidedly different than factory or synthetic watercolors. Because these paints are handcrafted from natural earth minerals and crystals they have a consistency like wet sand and do not disperse or soak into the paper as conventional watercolors do, but rather they hover more gracefully on the surface. We suggest that you add water in a gentle balance being careful to not drown these gemstone paints while working with them and to build up the colors in layers for a deeper saturation of color. There are no refunds or exchanges for this item. 
*** subject to availability. This item will ship in 7-15 business days. Please note that if you purchase this item in combination with any made to order watercolor palettes, your entire order will ship within the timeframe of around 2-3 business weeks for pre-orders.