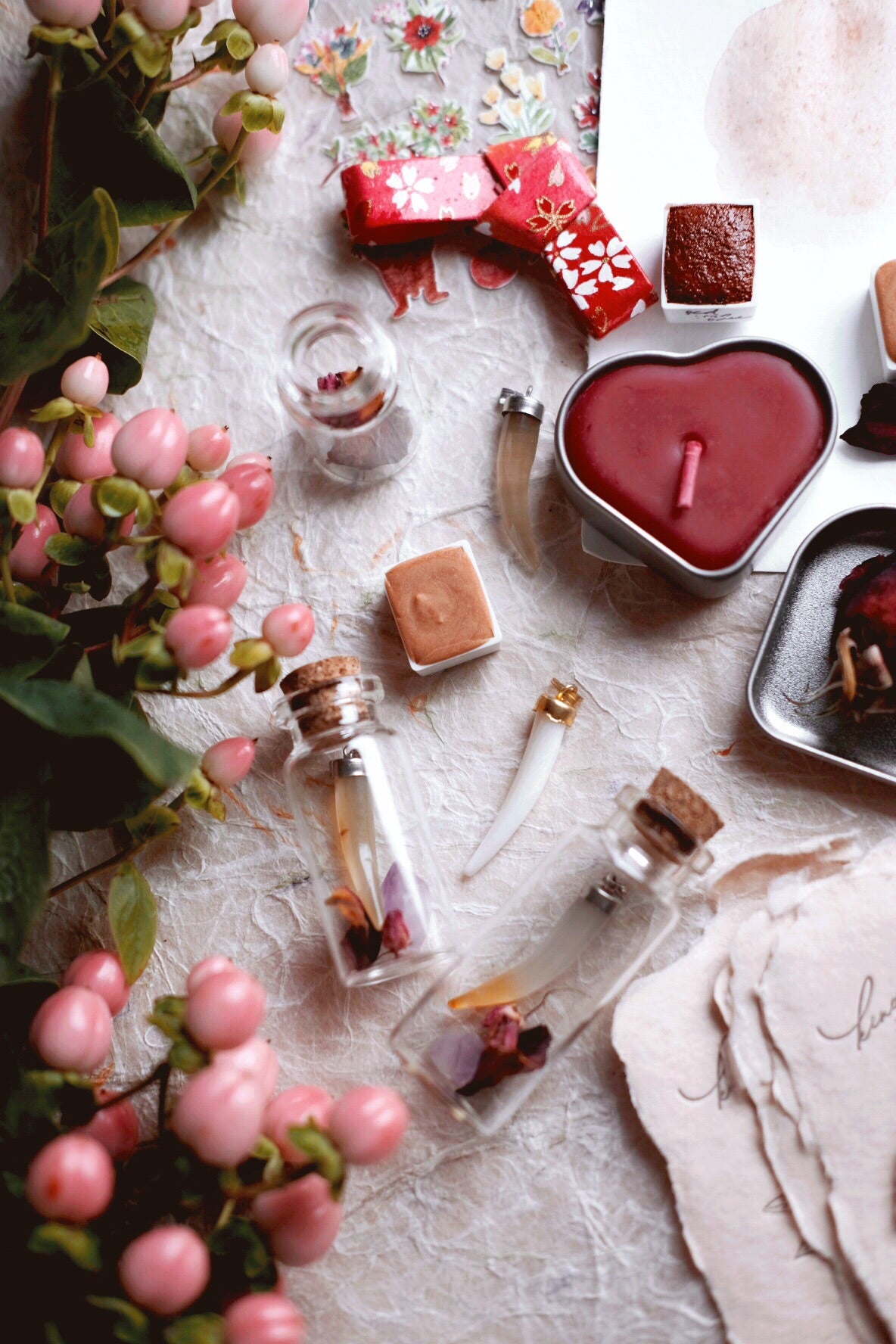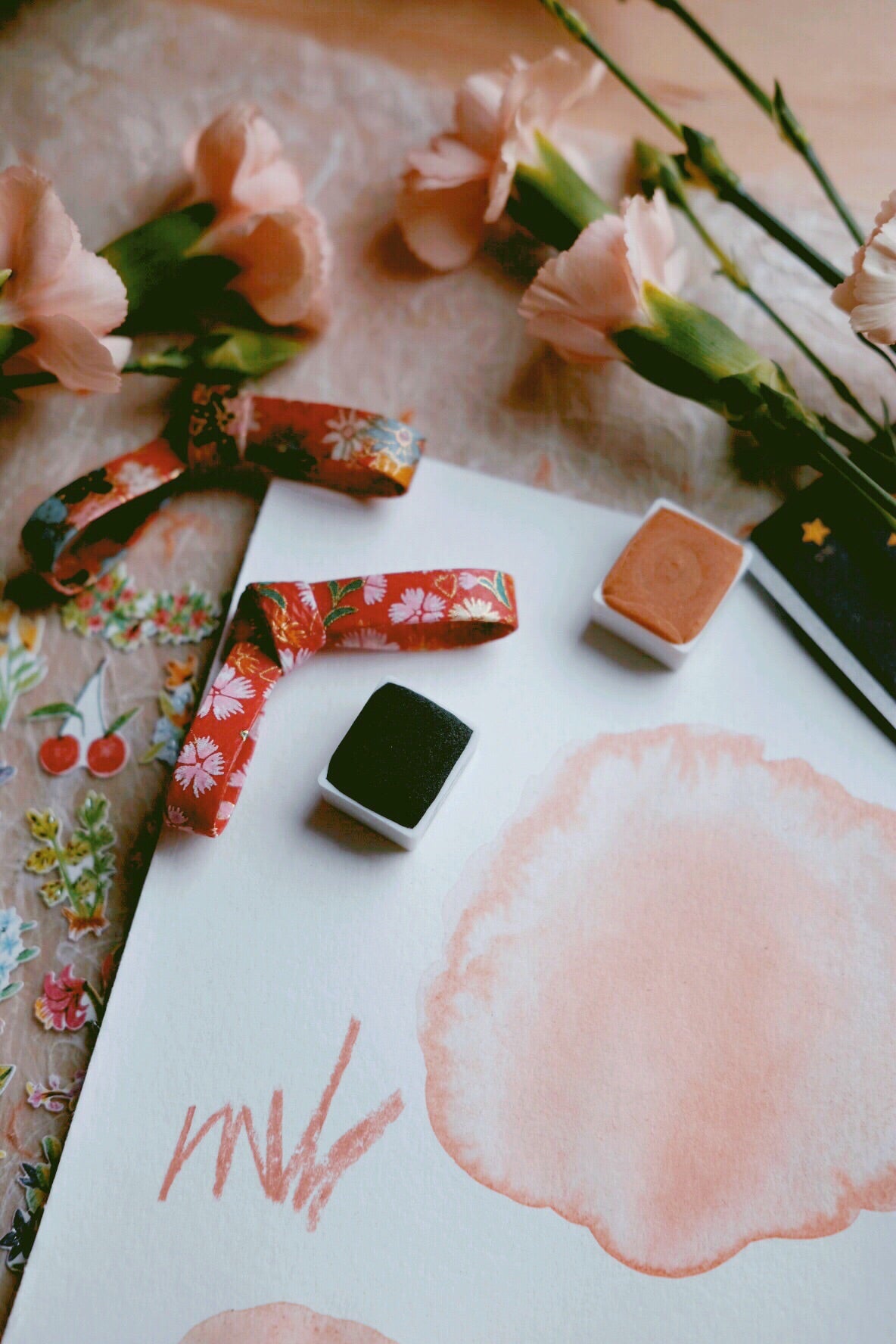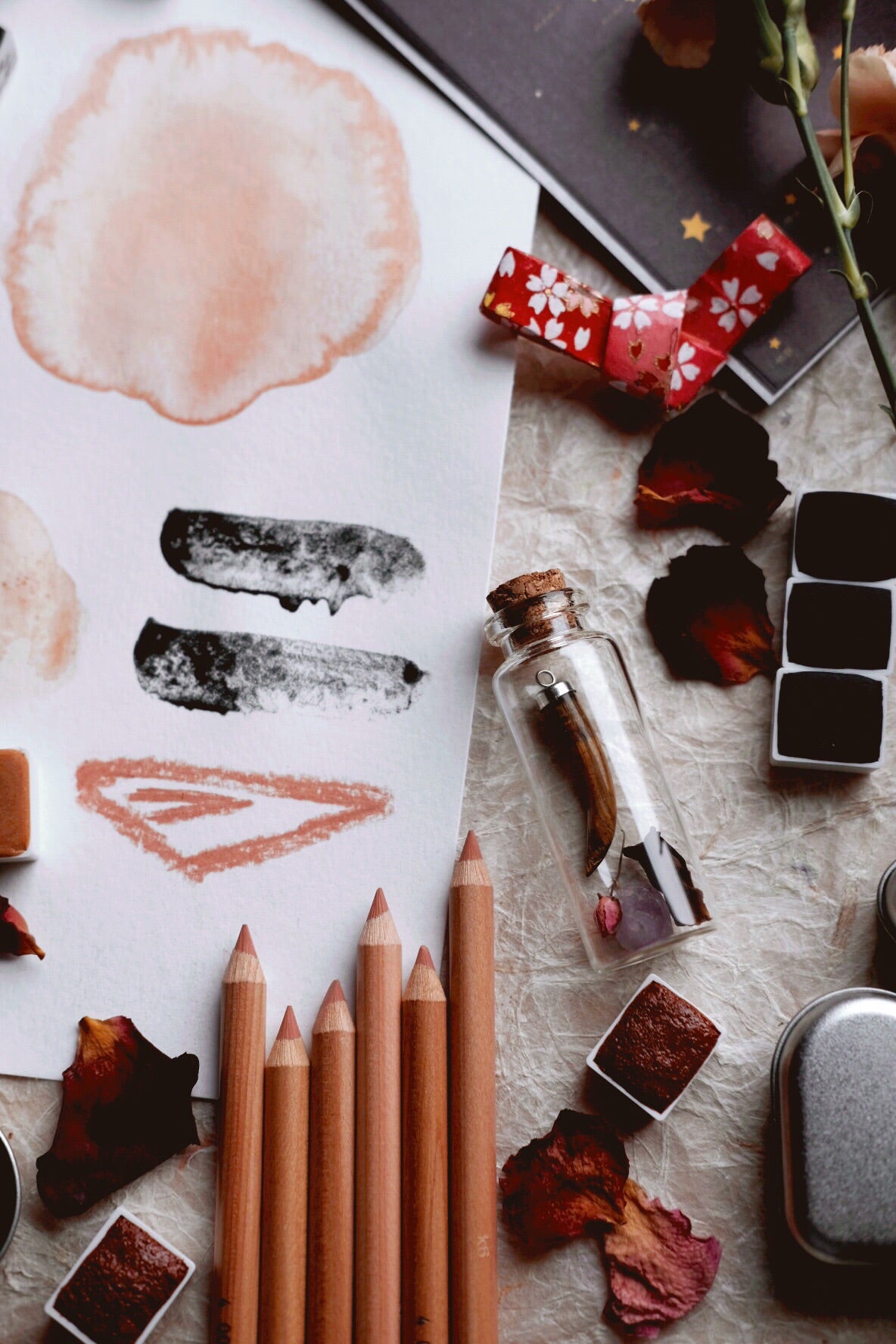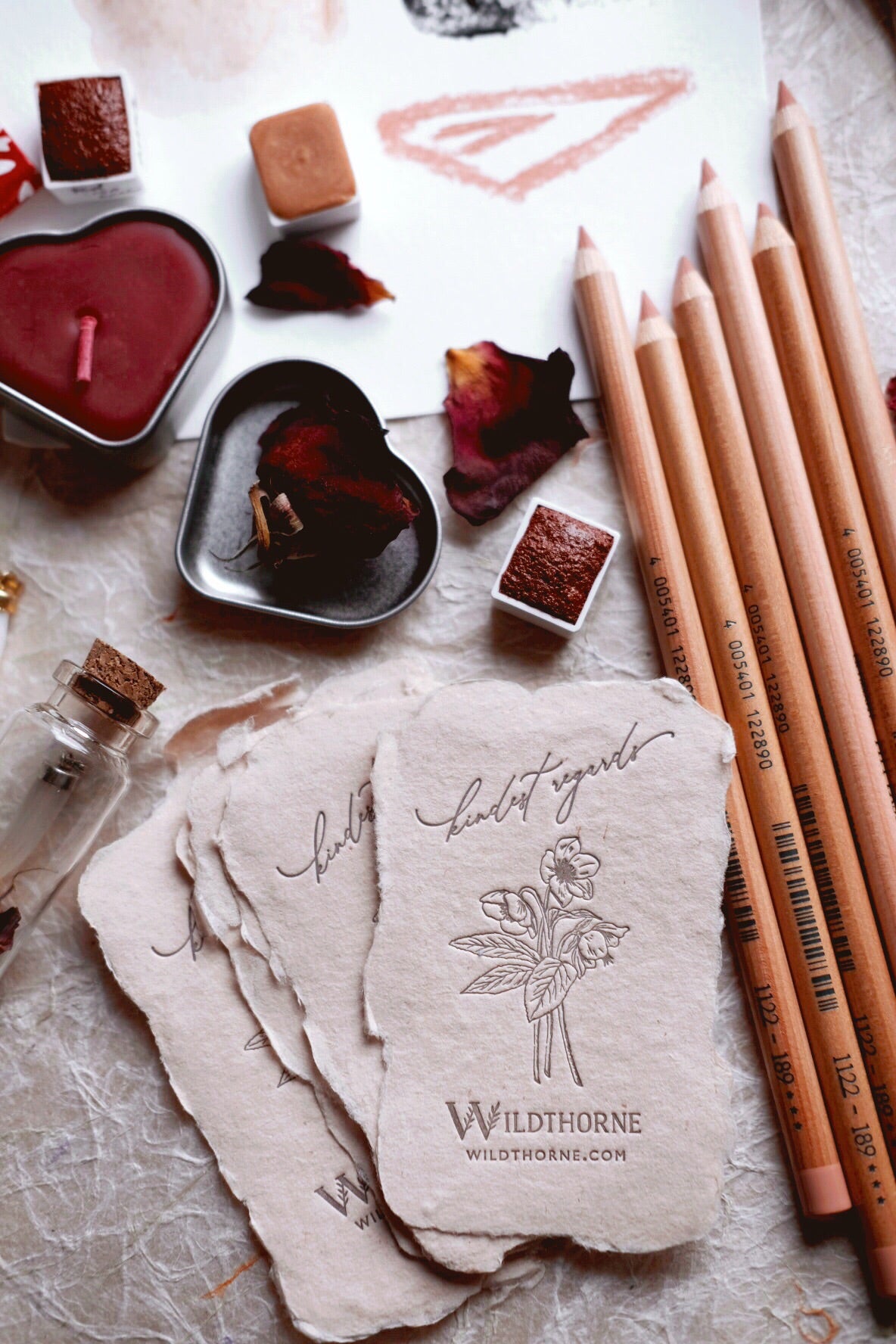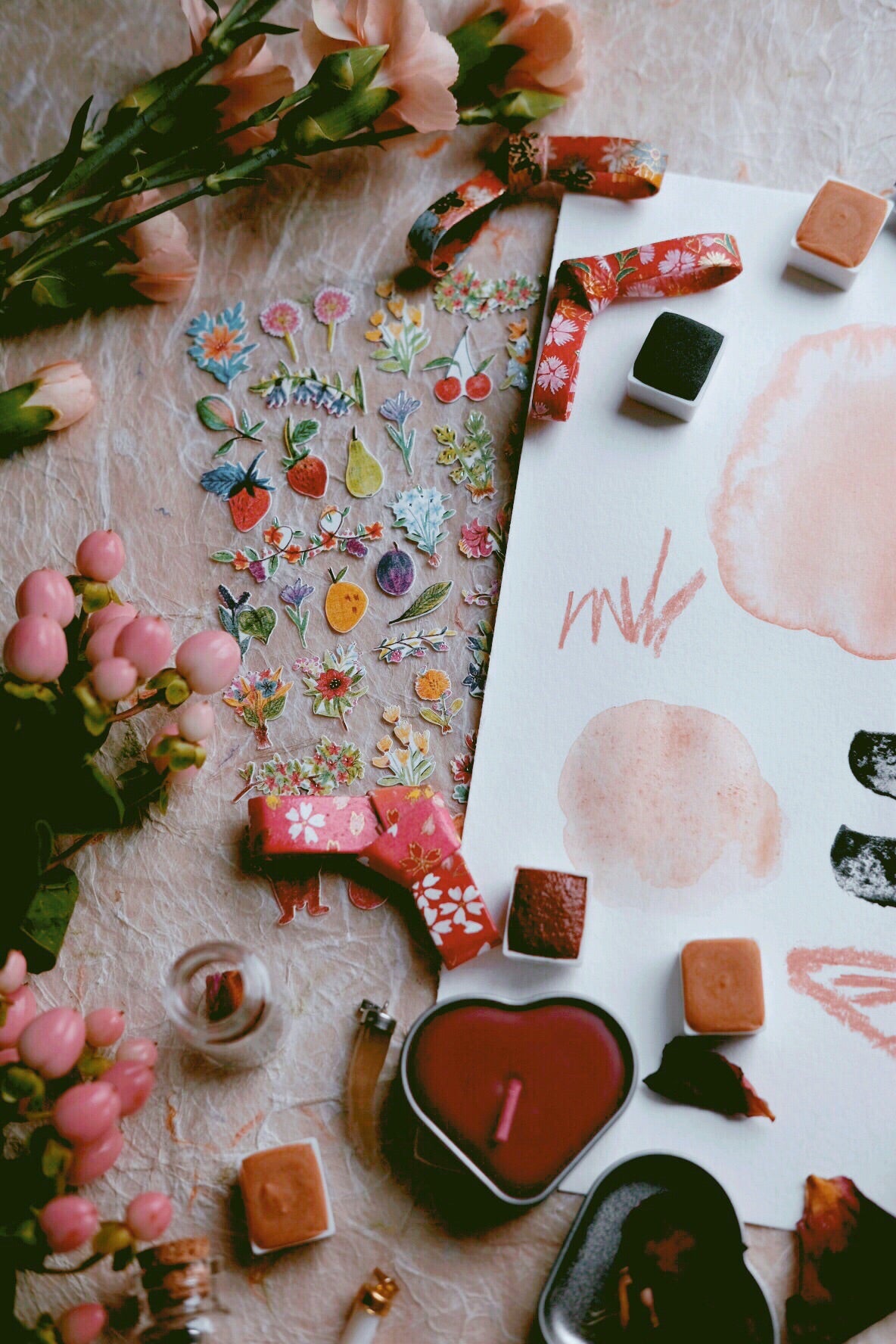 RESERVE for Elena + Tourmaline Crystal + Series I. - Limited edition Gemstone Stationery box
Details
  * This listing is reserved for a special customer. Please do not purchase unless you are Elena.   As per our conversations:   1 x Tourmaline Crystal Wildthorne subscription box.    thank you! xo!       :: Tourmaline...
Read more
* This listing is reserved for a special customer. Please do not purchase unless you are Elena.
As per our conversations:
1 x Tourmaline Crystal Wildthorne subscription box. 
thank you!
xo!
 :: Tourmaline Crystal ::
A limited-edition Watercolor Stationery collection is offered as a specialty set that includes a gorgeous half pan of genuine Black Tourmaline crystal watercolor paint along with a secondary crystal/mineral paint in either intense Peach Agate or wild gathered Pinkish Red Iron Oxide based off of your wishes and intentions for the year.
This is a personalized experience where you will be sent each of the following items lovingly gift wrapped in entirely eco-friendly and sustainable artisan papers, fibers, textiles and ribbons based upon your answers and choices. No two boxes will be alike and each box will be hand-tailored to align with your own personal intentions, and will arrive festooned with local flowers, and nature treasures that I have hand-gathered in our forest by the sea. 
A half pan of beautiful handcrafted Black Tourmaline crystal watercolor paint. Highly granular and mysterious it is stunning every time I dip my brush into this paint. 
Handcrafted Japanese lacquered artisan paper brush rest. 

Floral and botanical Japanese stickers to decorate your journal or mixed media work.

A genuine unisex crystal tusk amulet in Agate, Mother of Pearl, Tiger's Eye or Aventurine with Sterling Silver, or 14k gold vermeil to gather in good luck for the new year.

Locally sourced hand-poured Cinnamon beeswax candle in a heart-shaped tin.

Watercolor brush, either a Lunar shader or liner.

Curated art Pastel pencil that I've carefully selected to compliment in a warm Cinnamon hue.

A half pan of either limited edition intense Peach Agate, or Pinkish-Red Iron Oxide watercolor.

Exclusive artisan hand letterpressed card, and swatch card.
Watercolor papers and stationery ephemera pack featuring stickers from hand-carved stamps. 

and so much more...
These rare Japanese milled mineral watercolor paints have a beautiful granulation and can be layered from thick to thin. Each pan is hand-poured to exacting traditional recipes and techniques in our studio using the highest quality earth pigments, and natural watercolor binding medium made from distilled water, honey, glycerine, and the sap of acacia trees.
 *** Please choose carefully, our gemstone watercolor paints are accessible to all to purchase and paint with, however, these paints act decidedly different than factory or synthetic watercolors. Because these paints are handcrafted from natural earth minerals and crystals they have a consistency like wet sand and do not disperse or soak into the paper as conventional watercolors do, but rather they hover more gracefully on the surface. We suggest that you add water in a gentle balance being careful to not drown these gemstone paints while working with them and to build up the colors in layers for a deeper saturation of color. There are no refunds or exchanges for this item. 
*** subject to availability. As every subscription box is highly personalized and will be custom-tailored to each unique and individual customer, shipping will be within 1-3 business weeks.