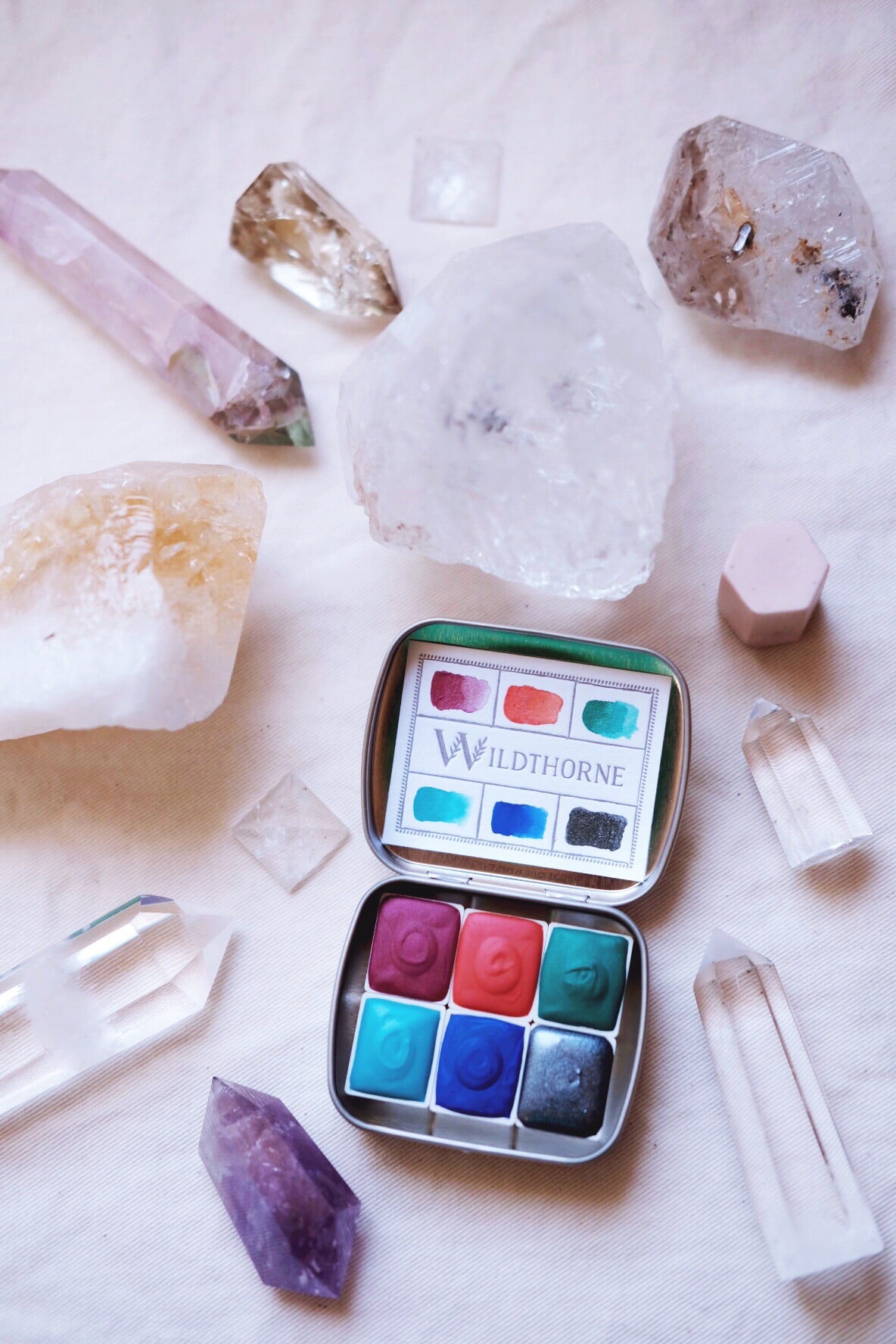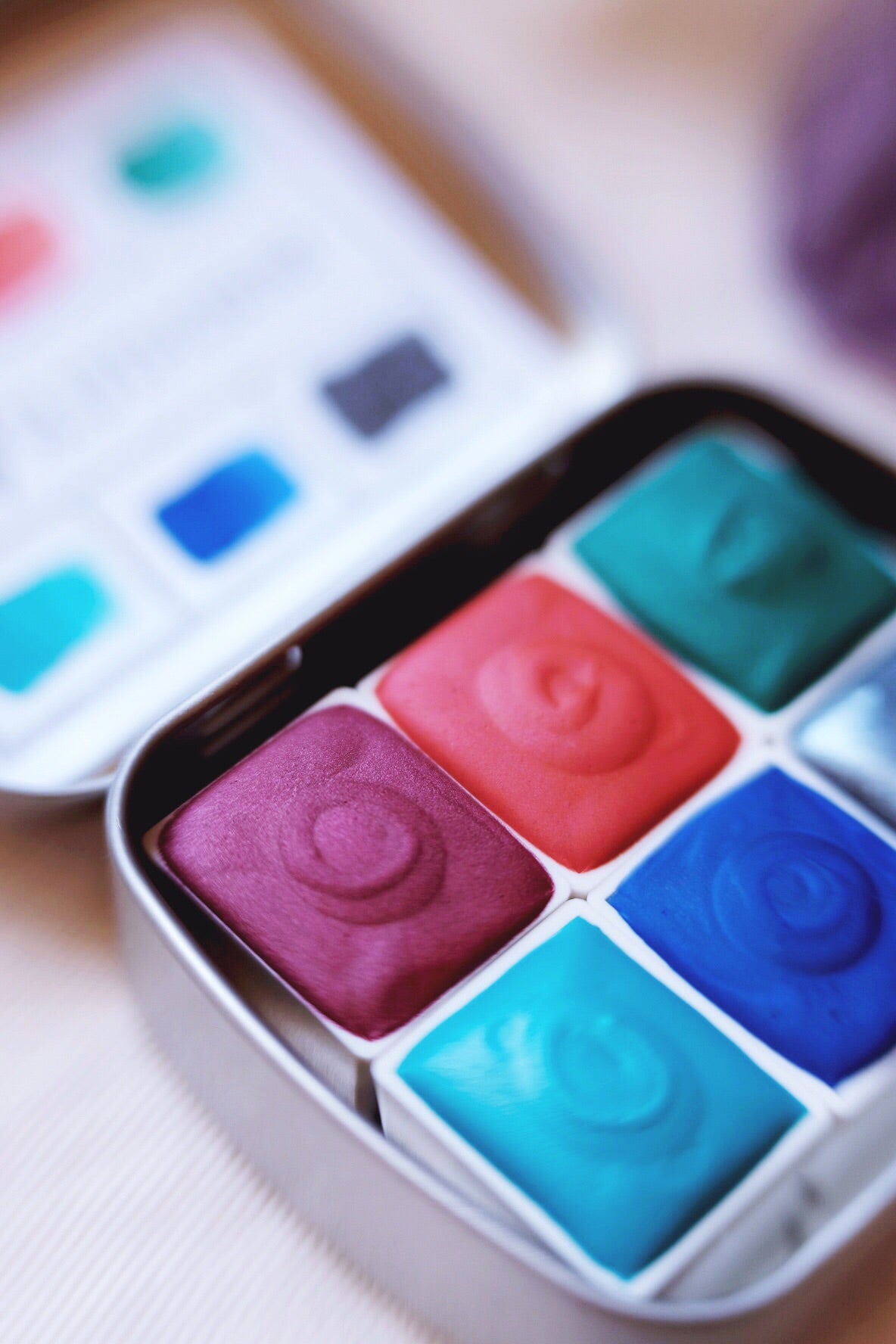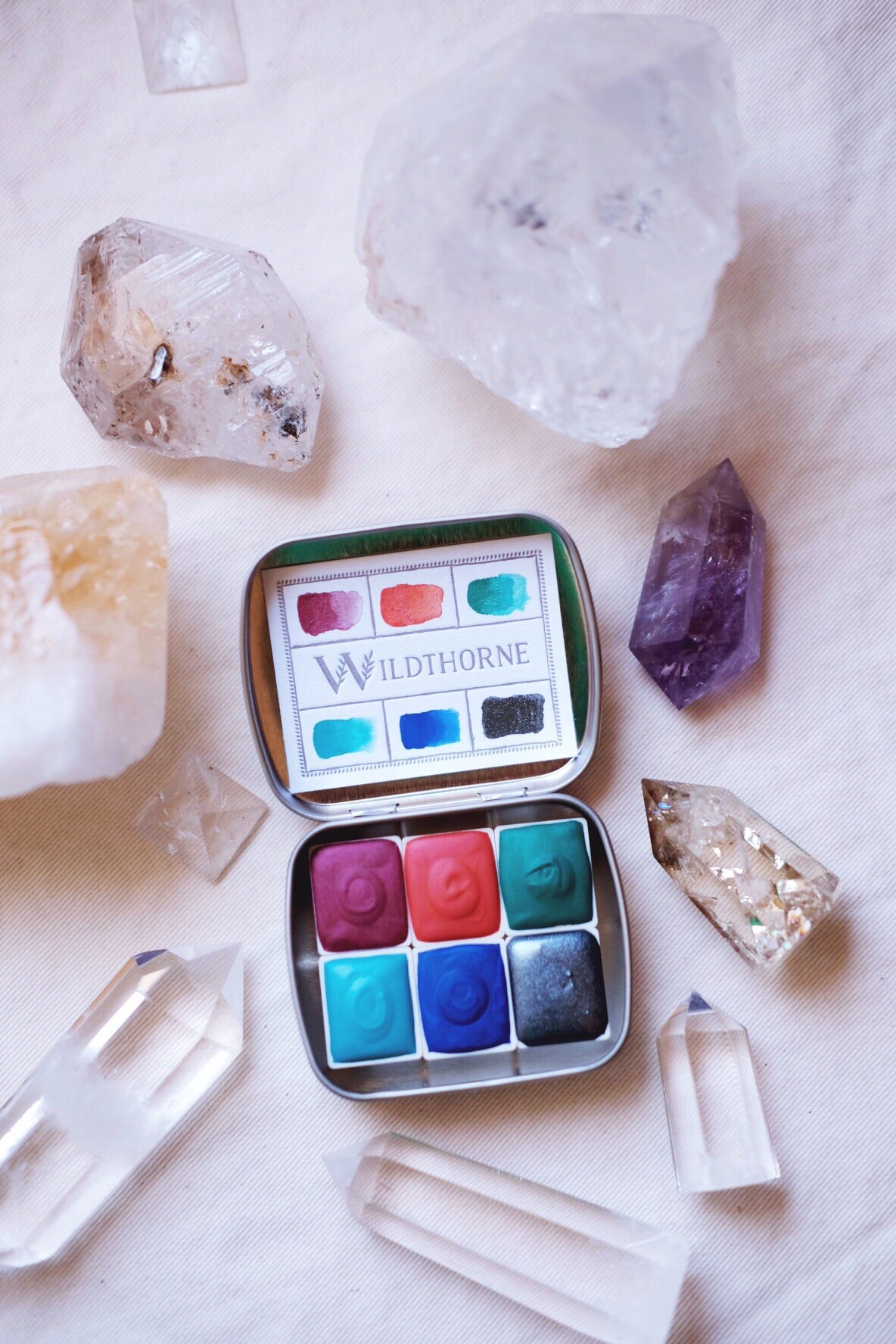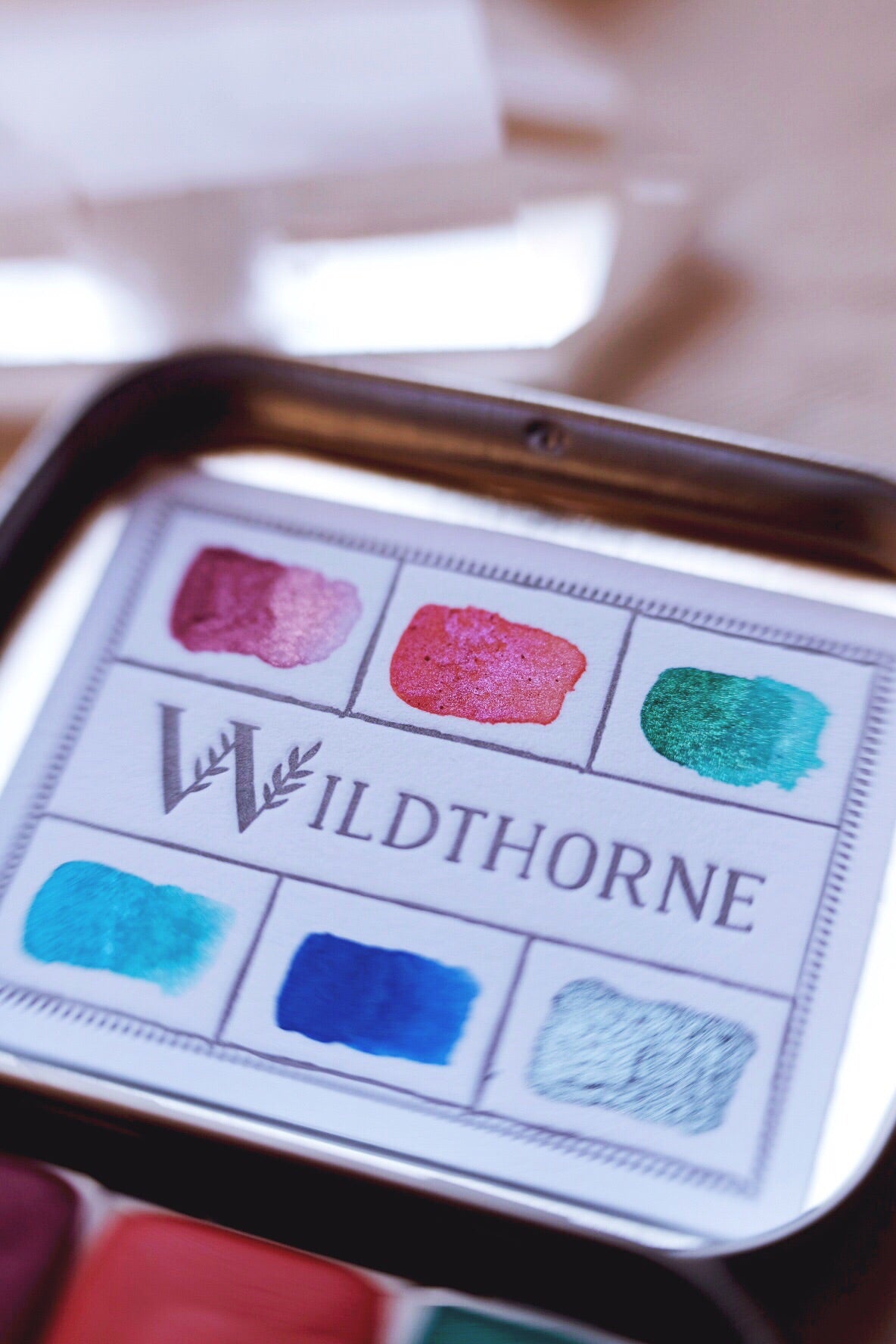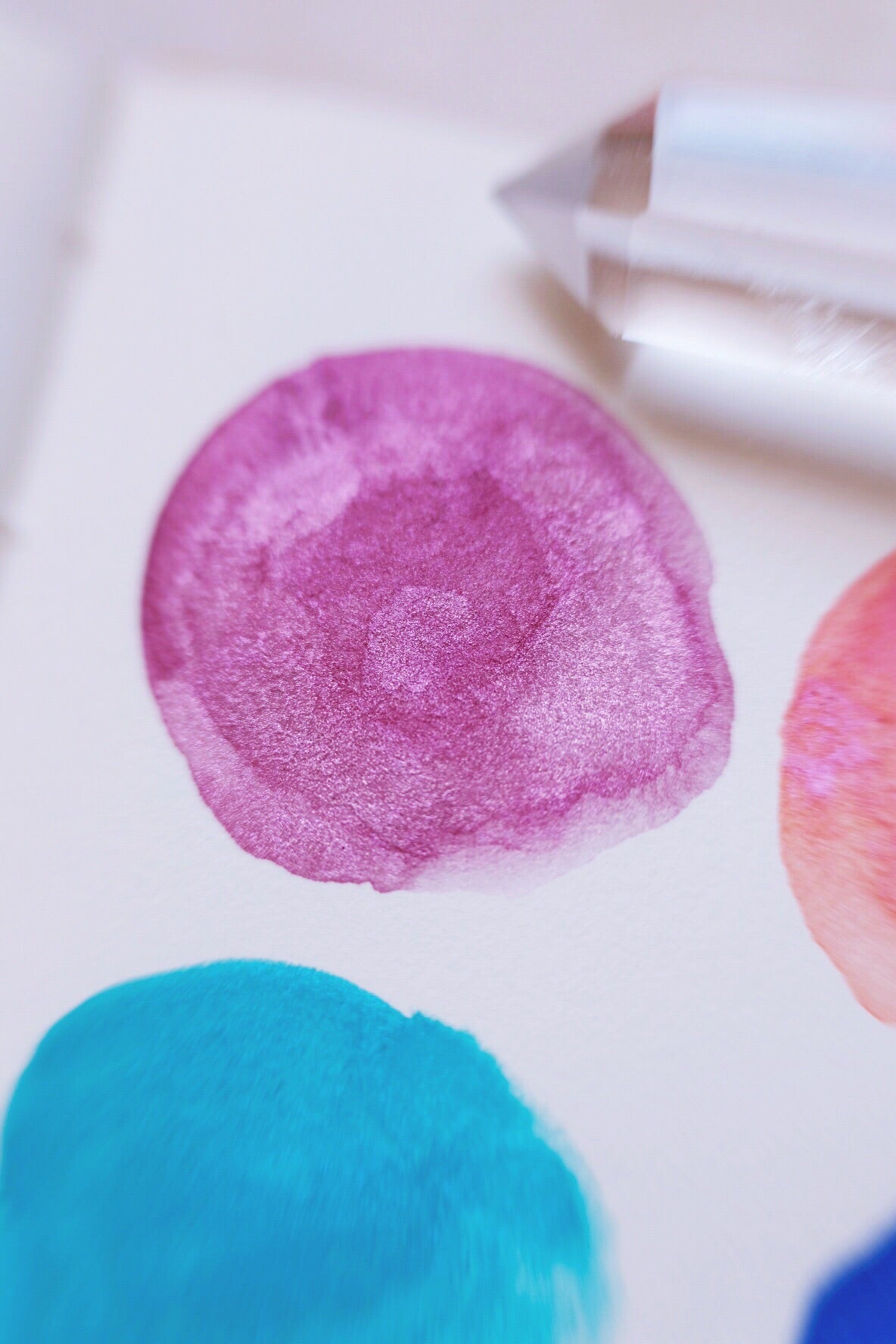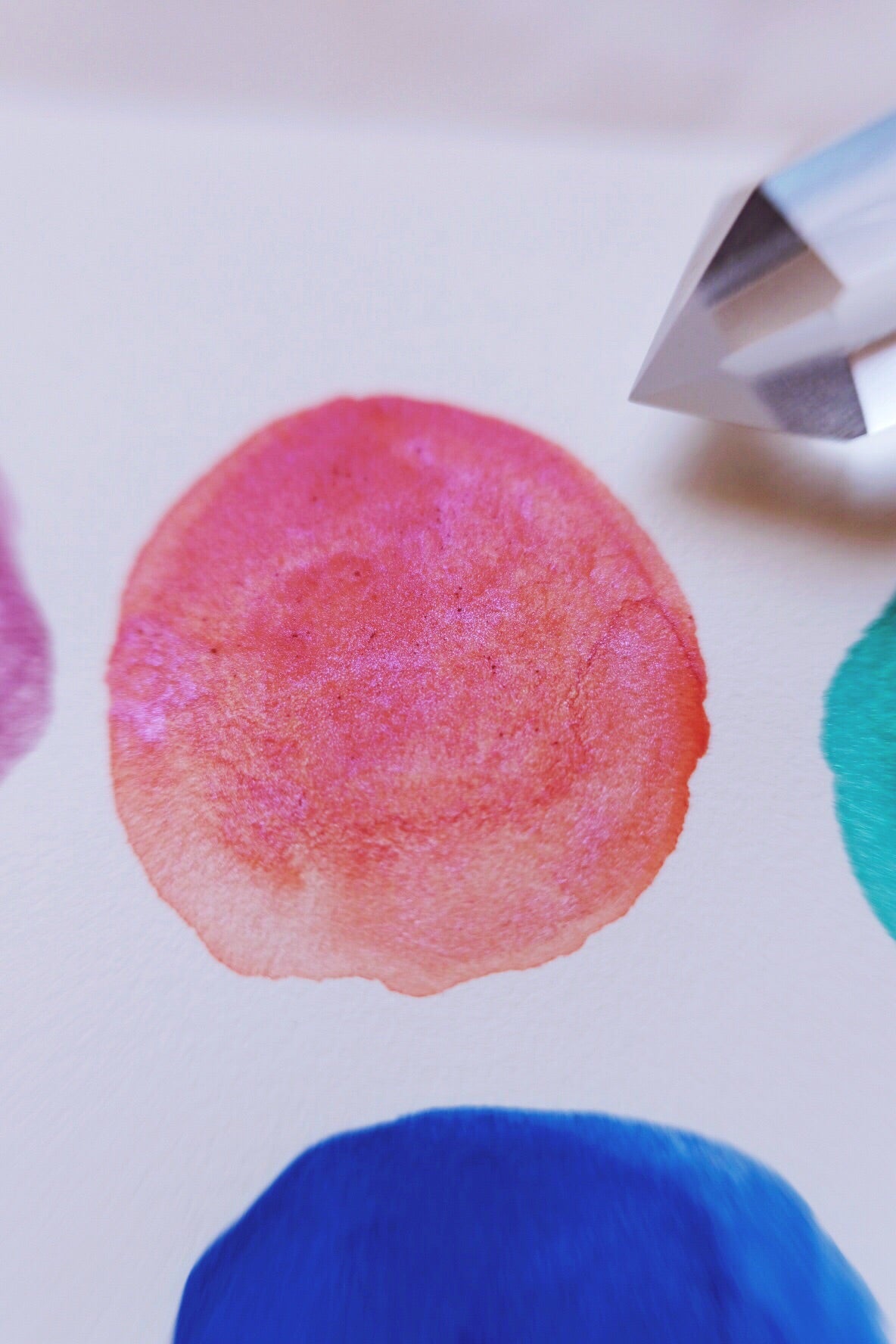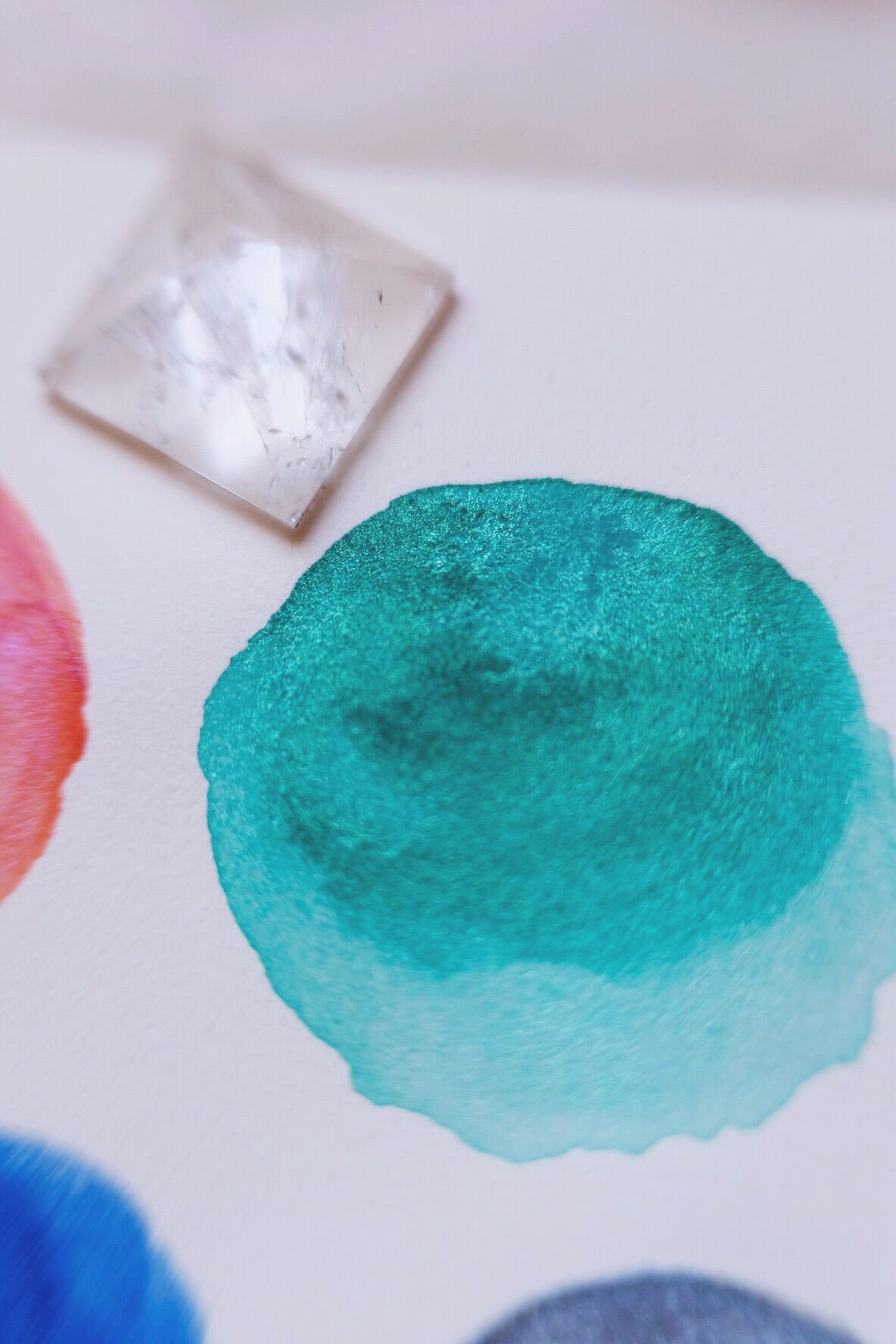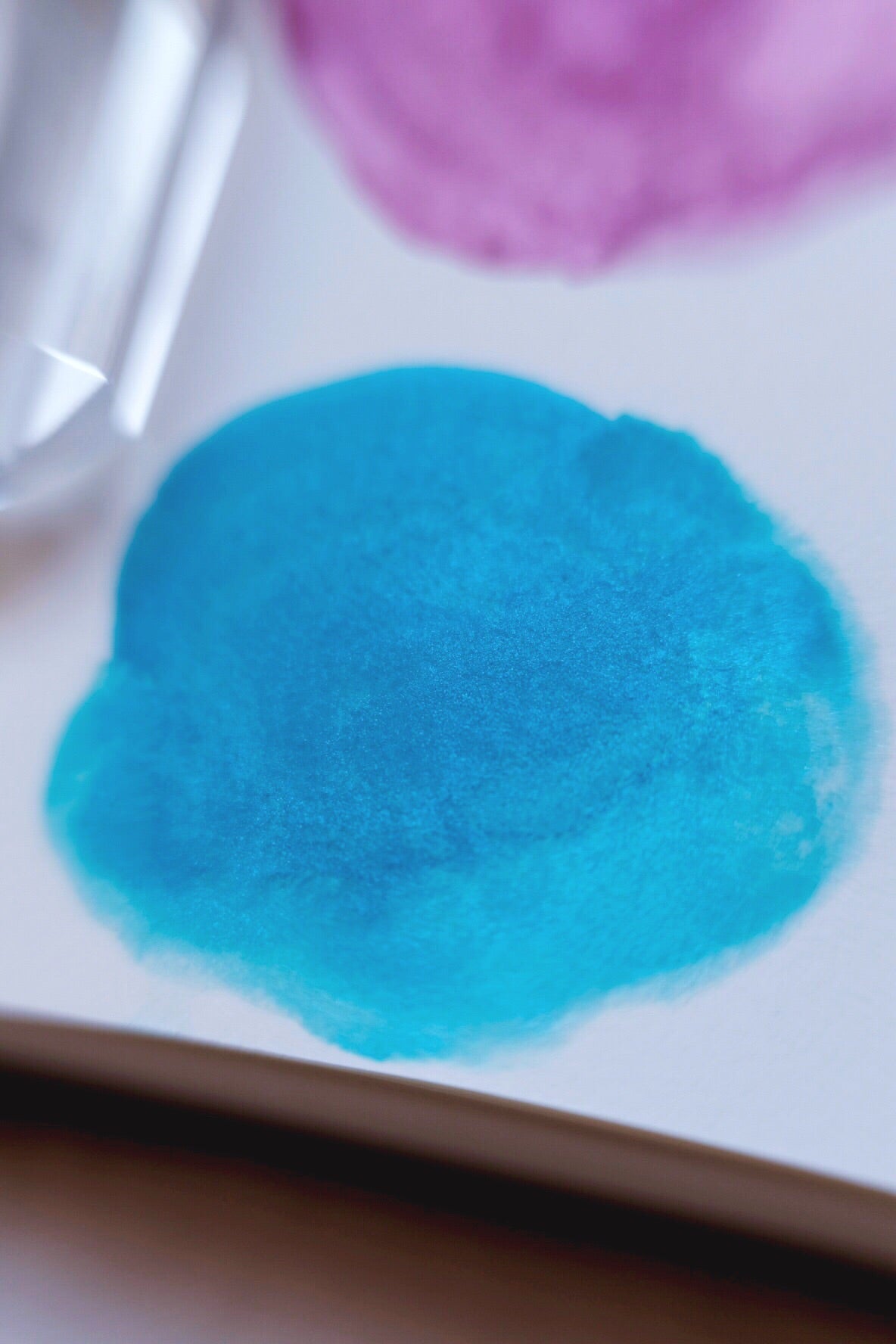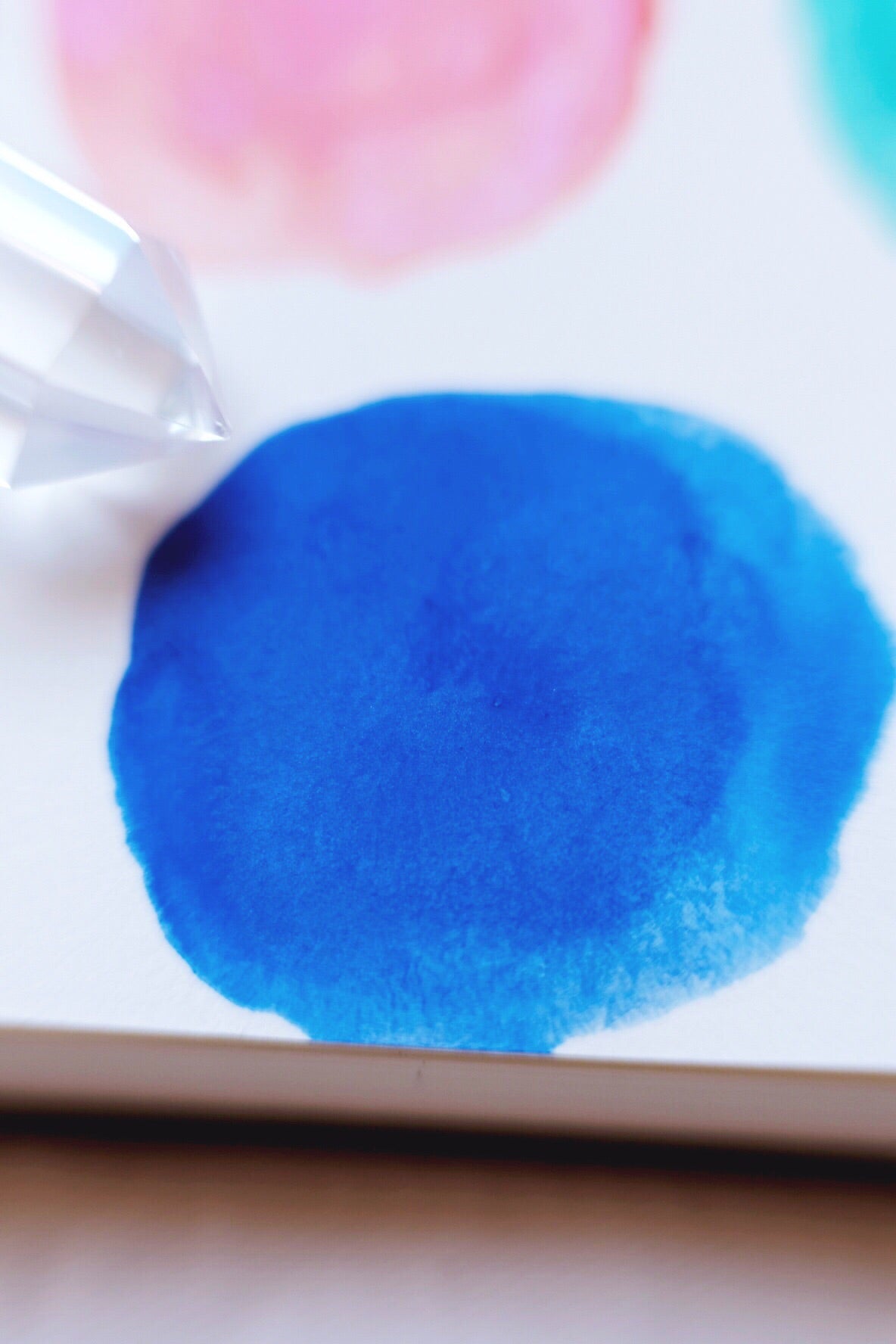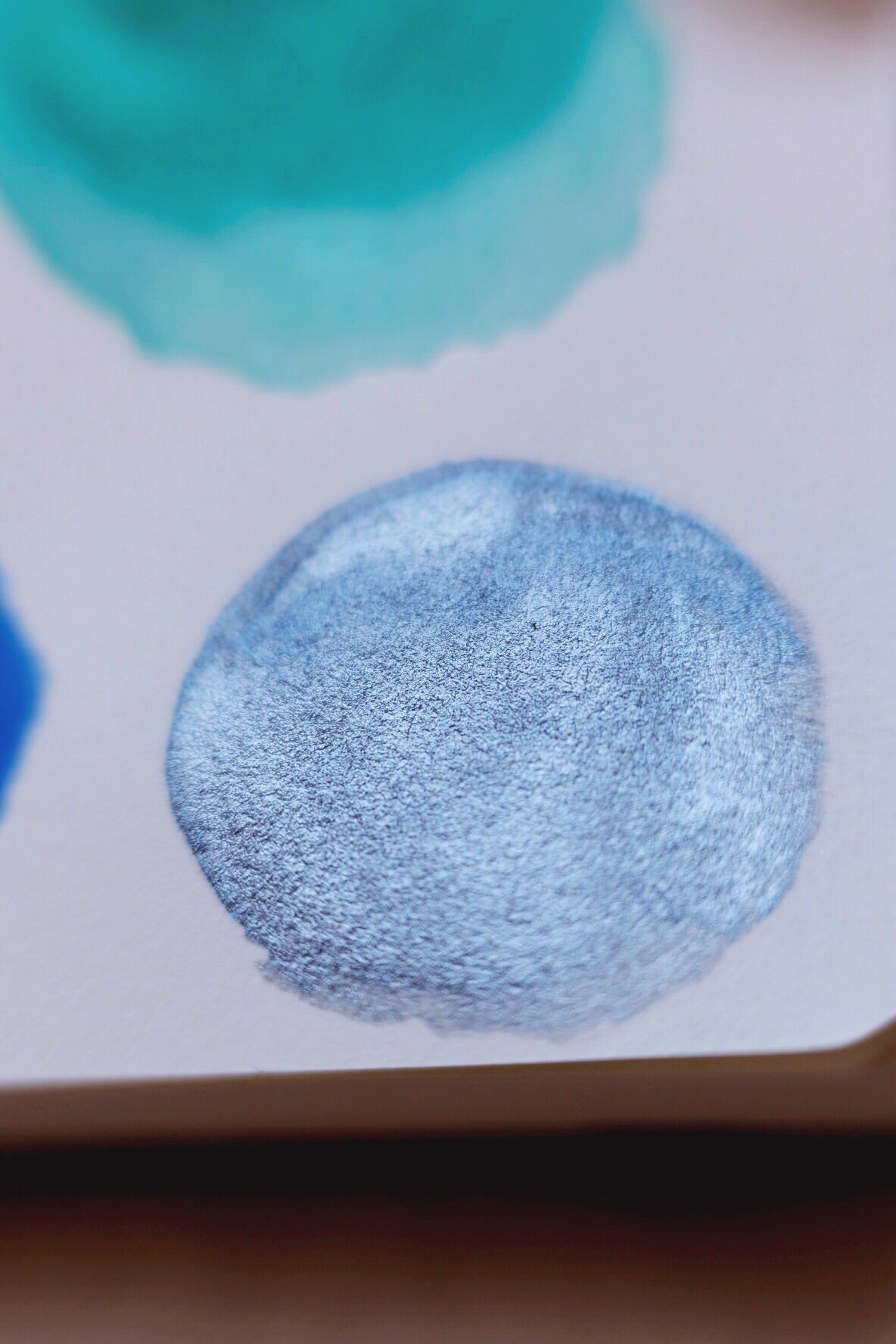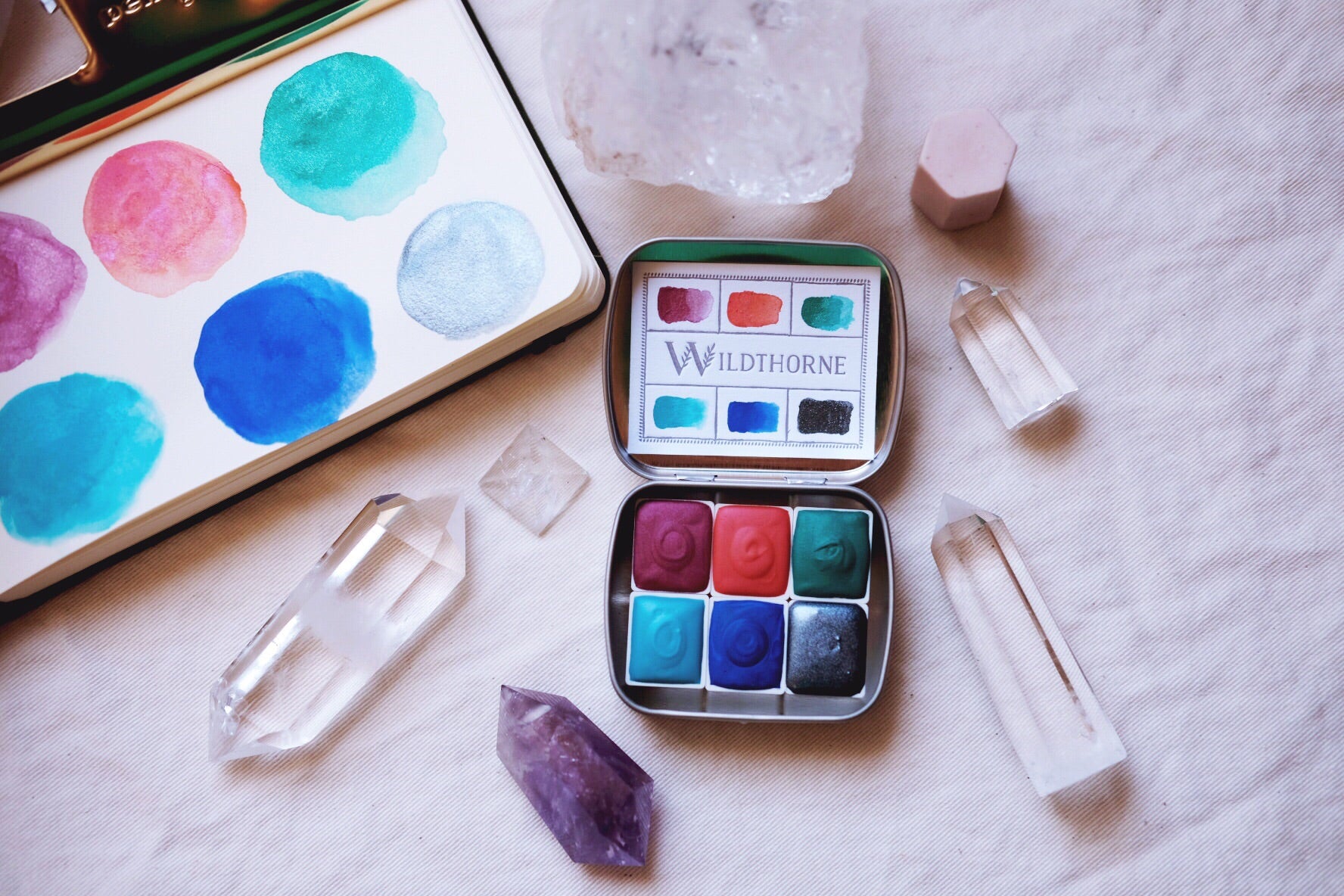 RESERVE for Edie + Moons of Saturn + Limited Edition Mineral shimmer watercolor palette
Details
  ** This listing is Reserved for a special customer. Please do not purchase unless you are Edie.   As per our conversations:   1 x Moons of Saturn palette    thank you! xo!      :: Moons...
Read more
** This listing is Reserved for a special customer. Please do not purchase unless you are Edie.
As per our conversations:
1 x Moons of Saturn palette 
thank you!
xo!
 :: Moons of Saturn ::
An otherworldly collection of limited edition ethereal watercolors that glimmer like stardust. Named after 6 of the moons that orbit the planet Saturn and the Titans and Titanesses from Greek Mythology that have inspired them, the colours are (starting from the top row left):

Hyperion, Titan of Watchfulness, Wisdom and Light: a jewel-toned red with rosy pink and Magenta glimmer.

Rhea, Titaness (her name means 'that which flows'), the mother of the gods: a cosmic orange with nebulas of Crimson stars.

Phoebe, Titaness of prophecy and oracular intellect: a brilliant green with Emerald sparkles.

Dione, Titaness of the bright sky, also a deity of springs and the mother to Aphrodite goddess of Love: a sky blue with electric Turquoise stormy shimmer.

Tethys, Titaness associated with the sea, a consort to Oceanus and mother to three thousand water goddesses the Oceanids: a lush azure blue with deep pools of Lapis sparkle.

Pan, musical god of the wild, mountains and shepherds: a steely slate blue with constellations of Silver iridescence.

Every watercolor pan is a love letter to its inspiration that glows with incandescence as a tribute to our complex universe and shared mythological history. 

We have been working on these watercolors for many lunar cycles perfecting the recipe and raw materials. Each individual watercolor Moon in this collection has been harmoniously composed as a brilliant twinkling gem that illuminates the page and radiates light. 
These finely milled mineral watercolor paints have a beautiful granulation and can be layered from thick to thin. Each pan hand poured to exacting traditional recipes and techniques in our studio using the highest quality earth pigments, and natural watercolor binding medium made from distilled water, honey, glycerine, and the sap of acacia trees.
Top row // from left to right 
Hyperion, Rhea, Phoebe
Bottom row // from left to right
Dione, Tethys, Pan
Each curated palette also comes with an exclusive Wildthorne hand letterpressed artisan swatch card that nestles snugly within your watercolor palette ready to be painted by you. Our letterpress cards are crafted one at a time with sustainability and environmental responsibility in mind. The paper is 100% tree-free cotton made locally in the United States as a byproduct of the cotton garment industry. With a soft luxurious and tactile feel to the touch, it is a surface that invites your artistry. 
*** subject to availability. This item is Ready to Ship and will be sent within 5-7 business days. Please note that if you purchase this item in combination with any made to order watercolor palettes, your entire order will ship within the timeframe of around 1-2 business weeks.