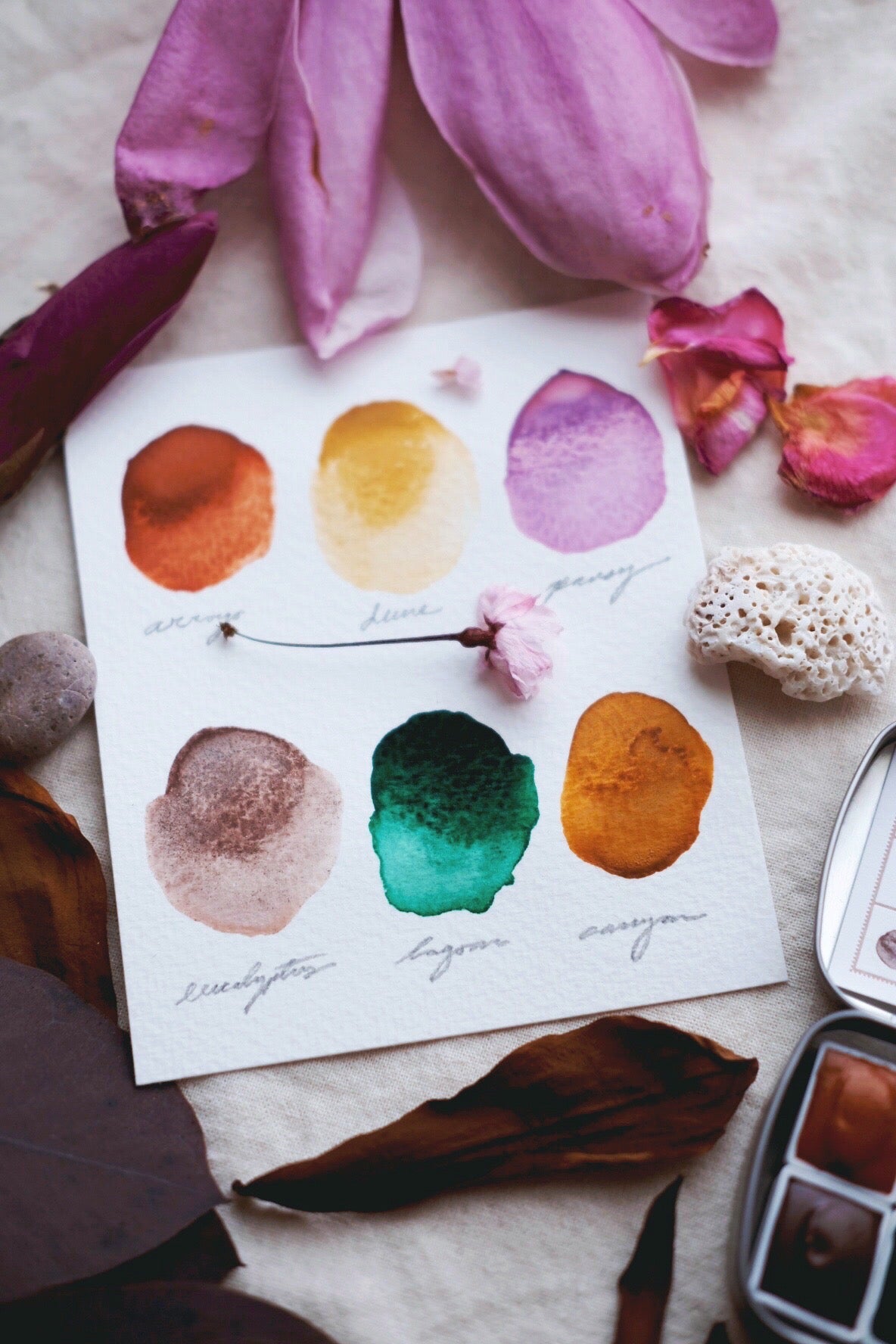 RESERVE for Carol + Limited edition Gemstone Mineral watercolor palettes
Details
  * This listing is reserved for a special customer. Please do not purchase unless you are Carol.   As per our conversations:   1 x Mineral palette  1 x Storyteller palette 1 x Voyager palette   thank you! xo! ::...
Read more
* This listing is reserved for a special customer. Please do not purchase unless you are Carol.
As per our conversations:
1 x Mineral palette 
1 x Storyteller palette
1 x Voyager palette 
 thank you!
xo!
:: Storyteller ::
The landscape holds stories within its canyons, forests, and rivers. A silent unspoken chronicle of connected sandy dunes and deep verdant green lagoons.
The 'Storyteller' collection pays homage to the wide open spaces that we roam with reverence to rock and mineral, clay, blossom and water. A limited collection that invokes the rising red dust from iron rich soil that leaves scattered imprints from footfalls on a far flung trail, and the surprise of a jewel like flower blossom that appears in the sheltered shadow of a tree.
My grandfather named each of his children as separate elements of a poem. He started with a Mountain, and then added in evocative elements like a flower for my mother that grows at its summit, and a hero who visits with courage and bravery. 
When composing our watercolors into these collections, I create and weave personal narratives that form their own majestic poetry, and when painted with your brush they shape unique stories for you to share in your own visual verse.
Each 'Storyteller' palette of watercolors will be gift-wrapped and sent to you in a portable re-usable metal tin, along with our complimentary signature artisan letterpress as a gift. 
Top row // from left to right 
Arroyo, Dune, Pansy
Bottom row // from left to right
Eucalyptus, Lagoon, Canyon 
 * Please note that our Lagoon watercolor is a very intensely saturated paint unlike any of our other greens. This watercolor hue will stain brushes and so we recommend using a separate watercolor brush when painting with it if you would like to prevent it from tinting your favorite brush.
Each curated palette also comes with an exclusive Wildthorne hand letterpressed artisan swatch card that nestles snugly within your watercolor palette ready to be painted by you. Our letterpress cards are crafted one at a time with sustainability and environmental responsibility in mind. The paper is 100% tree-free cotton made locally in the United States as a byproduct of the cotton garment industry. With a soft luxurious and tactile feel to the touch, it is a surface that invites your artistry. 
Our lovely gemstone mineral watercolor paints have a beautiful granulation and can be layered from thick to thin. Artist grade and lightfast, each pan is hand poured to exacting traditional recipes and techniques in our studio using the highest quality earth pigments, and natural watercolor binding medium made from distilled water, honey, glycerine, and the sap of acacia trees.
** subject to availability. This item is a pre-order palette and will ship within 15 business days (not including holidays and weekends), as each pan of paint will be hand poured to order especially just for you.