Day 19 Art journal challenge + Paint with salt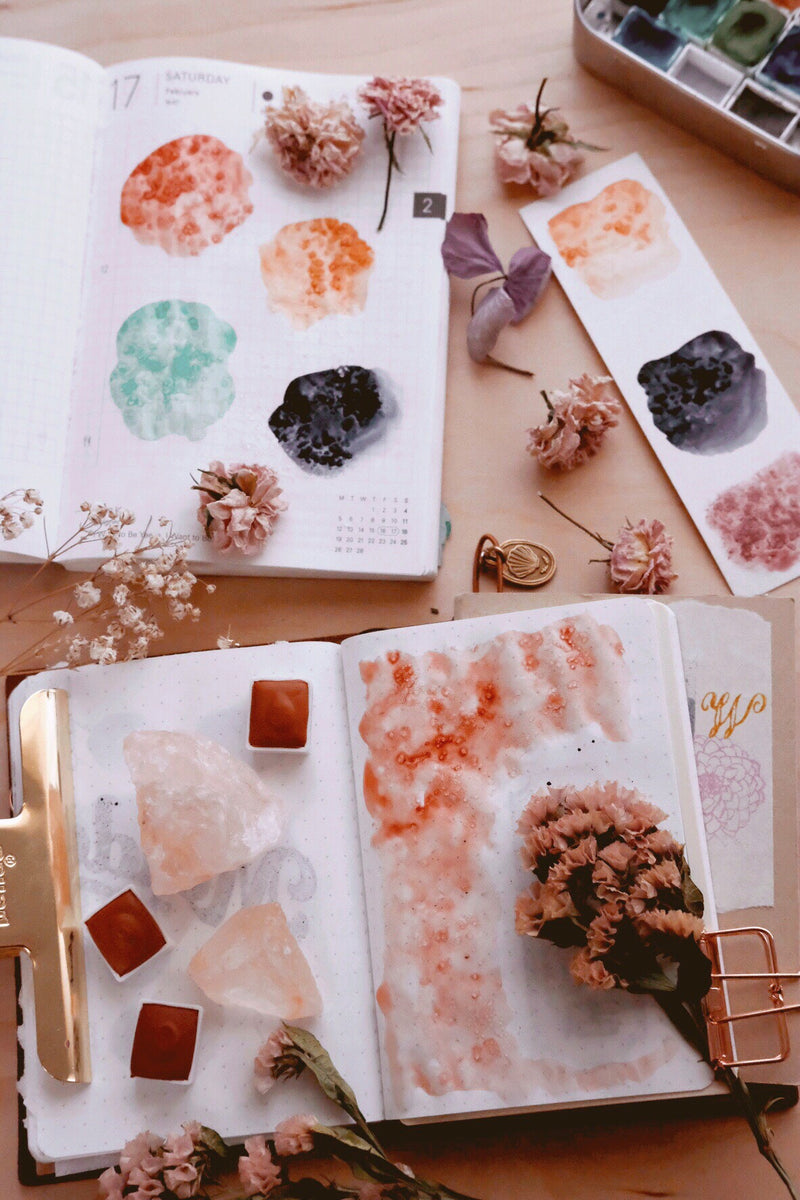 Day 19 and a simple weekend journal activity is to watercolor paint with salt. Above I have used our Bois de Rose watercolor but have also experimented with our Abricot, Indigo, Vert Turquoise and Sakura Pink hues in the cover image. If you have extra unused pages in hobonichi or watercolor notebooks lying around these are great to test swatches and new techniques in so that you are being resourceful and environmentally conscious with your art supplies. 
Choose a favorite watercolor hue and paint a wash on your paper, while the paint is still damp sprinkle some table salt onto your journal page and note the interesting patterns created by this effect. Let your art journal page dry naturally and then carefully brush the dried salt from the paper. Be gentle while removing the salt so that it doesn't scratch up your art. 
You can experiment with watercolor painting multiple colors in washes to create a gradient sky, and try being selective about where you place the salt to perhaps leave some areas smooth in contrast texture. Any type of salt will do, I have used regular table sea salt in my page above, but you can experiment with different coarse grinds to see varied effects.
Remember that these art journal prompts are meant to take you no more than 5 minutes or less to complete. But if you would like to challenge yourself further paint an entire page with your chosen subject in different watercolors while adding salt to your page to see the granular effects it produces.
Salt is known for its medicinal and healing benefits, as a purifier Himalayan rock salt lamps are said to help clean and clear the air for allergy sufferers. Keeping this intention in mind you can also write out on a journal page in pencil anything in your present life that you would like to energetically cleanse in a positive and healing way. Paint over your list with a soft wash of watercolor and add salt to purify your intentions. Once your page dries sweep away the excess salt from your journal page and visualize yourself clearing away all that is unclear or unnecessary.
I would love to see what you create with this exercise, so please tag your photos and posts #wildthorneoctober so that I may see them and comment. This also qualifies you for our giveaway at the end of October. 
Also keep adding to your positive aspects page daily, have a great evening.